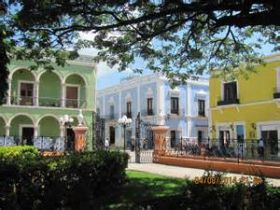 The status of being a permanent resident in Mexico is basically an immigration document that allows foreign people to live here permanently in Mexico. A permanent resident in Mexico would have all the rights of a Mexican citizen except voting and that means that the person, once he or she is permanent here, doesn't have to worry about renewing or dealing with immigration every year.
There are four basic immigration statuses in Mexico:
Tourist. As a tourist, the foreigner is only allowed to be here in Mexico for six months. There will be no extension on the tourist immigration document.
Residente Temporal. This allows the foreigner to live in Mexico. The foreigner cannot work. The Residente Temporal immigration document may be renewed for four years and every year it has to be renewed.
Residente Permanente. The Permanente is basically when the person is permanent in Mexico, in which case, they don't have to renew their documentation.
(Campeche, Mexico, pictured.)
Mexican Citizenship. In order to qualify for Mexican citizenship, the foreigner has to have at least two years of Residente Permanente. The difference between Mexican citizenship and the Permanente is that with the Permanente, the foreigner is not entitled to a voting card or a passport. When a foreigner has a Mexican citizenship they can have a passport and a voting card. But basically, the majority of the laws for the Permanente are the same as for a Mexican citizen.
(Campeche, Mexico, pictured.)
Posted November 03, 2016