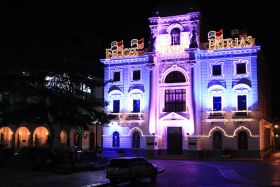 ​Casco Viejo is a mix between Barcelona and Silicon Valley and it has a very Bohemian feel to it. There is a big entrepreneurial vibe and it is an absolutely spectacular place.
Casco Viejo is full of security because the president lives there and the equivalent of the White House is there. Every president lives in Casco Viejo.
There is a lot of partying that goes on in Casco Viejo. Right now it is the hot spot for going out at night. There is very little crime in Casco Viejo, so it is a very safe place.
The architecture in Casco Viejo is very colonial, from the poor slums (5-minute drive away) to the nicest parts of Casco Viejo, which could have a 5-million dollar home. They have old buildings that are very well-built. Casco Viejo is a really great place to invest in because it is being revitalized. There are a lot of incentives to do business in Casco Viejo and to invest in the revitalization of it.
(Casco Viejo colonial building lit up at night, pictured.)
Posted June 29, 2015