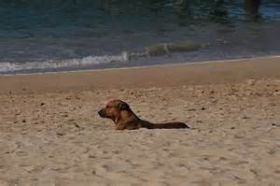 Sometimes Mexico does quarantine pets such as dogs or cats. It depends on the customs officer.
What happens is if they don't have that paperwork or if the pet is coming from a place in the world where it would give the Mexican official cause to be concerned that they may be bringing in some type of disease and this is not in the United States typically, then the customs officer has the discretion to be able to quarantine the dog or, on the other hand, the person trying to bring in the pets could say, "I don't want my pet to be quarantined for 40 days. I'm leaving to go back to the US and get the right paperwork and then I'll be back."
Quarantining a pet is very, very unusual. In order to guard against this, when you want to bring your pet make sure that they have all the vaccinations and all the records to show to Customs, "Look, my dog has all the vaccination. There is no illness."
No one's going to be confiscating your dog and putting it into quarantine without your permission.
(Dog enjoying the beach near Puerto Vallarta, Mexico, pictured.)
Posted November 06, 2016