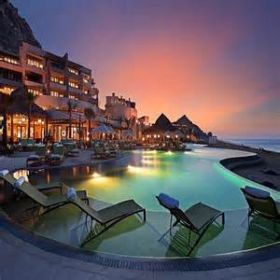 ​Cabo San Lucas is at the very southern end of Baja Sur and is an internationally famous place. There are big hotels, all inclusive resorts, and lots of services. Many people in Cabo San Lucas speak English and provide help for people who want to do business, or buy or maintain property. There's a beautiful arch, there's boats, and there's amazing fishing; all sorts of charters. The airport itself is one of the nicest airports, and is busy all the time. Cabo San Lucas has nice restaurants. Cabo has a lot of nightclubs and bars with a lot of young people and late night activities. The only thing that I find sometimes hard to deal with in the Cabo San Lucas area is how separated the population is from all the tourist development. So what you see on the main streets is not exactly where all the people live.
To the northeast of Cabo San Lucas about 40 minutes by car is San Jose del Cabo, which is a smaller and quieter town and less of a party town than Cabo San Lucas. San Jose has very beautiful restaurants. Just like in Cabo San Lucas, lots of people speak English in San Jose del Cabo. There are nice jewelry stores, hotels, and they also have very nice beaches.
Going inland and almost due north from Sa Jose del Cabo on Highway 1, is Miraflores and about 10 minutes after that is Santiago. Those are very beautiful towns with waterfalls and nice hikes up the beginning of Sierra de la Laguna, which is our biggest mountain chain. These would be the main reasons why you would visit these towns. Miraflores is famous for working with leather and also some pottery.
Continuing on Highway 1 north for about 40 minutes, you will reach the Sea of Cortez, and the very nice town of Los Barriles, which has long, sandy beaches. Barriles used to be a small town and is now growing. They have beautiful sandy beaches. They also have a winter season where you can do kiting and winter activities for which it is very famous. There's also probably one of the biggest fishing fleets there and good deep-sea fishing. There are a lot of services and English speaking people in Los Barriles. They have rental houses, real estate for sale, they have their own bank, and they have governmental offices, so it's a little bit more complete of a little town. There are a large amount of American and other foreign people living in Los Barriles and they seem very happy.
From Los Barriles, you can continue on Highway 1 for about half an hour to San Bartolo, which is a tiny little inland town where they produce a lot of mango, so they have a lot of mango fields. San Bartolo is a nice stop for when you're driving from La Paz to Cabo, the old way (which is the order we're taking here). San Bartolo has nice diners, regional candy and related items.
Continuing on Highway 1 about another half an hour, going mainly west, you would arrive at San Antonio, a tiny little mountain town probably with 500 people in it. Used to be a very important mining town but right now they just sort of survive with their crafts.
Just east of San Antonio is El Triunfo, which is also an old mining town that is starting to grow into a small Todos Santos. They don't have beaches but they have beautiful mountains and they are starting to make more art galleries and there are a few small hotels. You can rent houses in El Triunfo. There's some real estate going on in El Triunfo and there are two very good restaurants that are worth the drive just to eat there.
Heading more northeast for about an hour from San Antonio, you would arrive at Los Planes, which is an inland agricultural area. They produce a lot of cucumber, strawberries, papayas, chili, onions; whatever you want.
From Los Planes, you can travel close to due north and arrive at La Ventana Bay and then El Sargento, on the Sea of Cortez. Although there are separate towns, they are pretty much glued together. Our high season here in this area is during the winter, when we have strong north winds and wind surfing and kite surfing can be practiced. In the summer we have fishing, spear fishing and scuba diving.
Going northwest through valleys and a mountain road about 40 minutes from La Ventana Bay, you would arrive at La Paz, which is the capital of the state. La Paz has beautiful beaches, nice hotels, beautiful restaurants, and mostly every document you would need from the government and anything you want to do will be happening in La Paz. They have notaries, hospitals, lawyers, banks; you name it. They also have a ferry to take you over to the mainland and back and an international airport, although right now we don't have a lot of international flights.
You can drive due south from La Paz (which faces the Sea of Cortez) about an hour and 15 minutes and arrive at Todos Santos which is a beautiful town facing the Pacific, where the ocean is a little stronger. Todos Santos good waves for surfing, boutique hotels, and boutique restaurants. It's a small place but it's also very accustomed to having tourism so there are a lot of arts and crafts, and painters. Many artists and painters choose Todos Santos because it's a source of inspiration for them so Todos Santos has a lot of galleries. Todos Santos long, sandy beaches where the ocean can be a little scary but you can see whales passing by and still be in a very natural place.
(Capella Pedregal Resort, Los Cabos, Baja California Sur, Mexico, pictured.)
Posted June 17, 2016