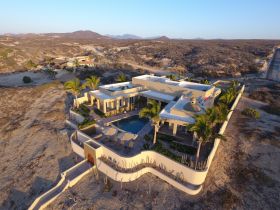 In Los Cabos and La Paz, it is required to get a building permit and a licensed engineer to supervise the construction of anything. However, there are building inspections along the process that are not that well-done, so you really want to have a known and reputable builder or inspector watching when you build a home here.
There are two types that dominate Los Cabos and La Paz constructions: block construction, which is basically a post and beam construction with blocks as the pillar, the roof usually a structure of a reinforced concrete with Styrofoam insulation which makes the roof lighter; and the other is the W panel which has a couple of different styles, but is basically a Styrofoam sheet laced with a steel bridge so that the bridge protrudes in either side of the Styrofoam by 1- 1 ½ inches. In this case the whole structure is erected, and then they pass over it with 1 ½ inch of concrete on the inside and outside. The W panel is a very strong building technique, and it's easier and less expensive.
Any construction done here in Los Cabos requires having an inspector, whether it's a builder friend or some architect you hire. I would recommend having a third-party inspector just to make sure the house is properly constructed.
(Concrete home made with Styrofoam insulation, Baja California Sur, Mexico pictured. )
Posted October 31, 2017