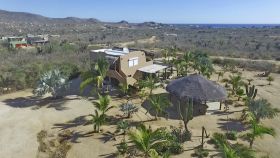 In the tourist areas in San José del Cabo, they fumigate very heavily to manage mosquitoes. In some areas here in the East Cape (between Los Cabos and La Paz, on the coast), for a total of a month in a year, the mosquitoes pester us. During seasons with no rainfall, we just leave our windows open without the need to screen them.
After the rains, however, we see a lot of bugs and mosquitoes. In areas where there are a lot of gardens and stagnant water, there are a lot of mosquitoes. The government of San José del Cabo is very proactive with health services going around the area to make sure that there's no stagnant water in tires or pots. This is to minimize the mosquito risk.
The only mosquito-borne disease in San José del Cabo is Dengue Fever. About 100 people might get dengue a year in the whole San José del Cabo area, but mosquito infestation occurs for only a month in an entire year- during the rainy or the hurricane season.
(Solar eco-home with exotic palms, East Cape, Baja California Sur, Mexico, pictured.)
Posted November 07, 2017