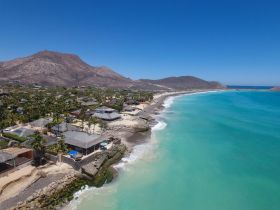 New developments such as hotels have their own water system because water resources are limited because they want to guarantee that they have water for their clients.
There are only a few reliable wells that supply water. That's why before building anything, one of the questions we would always ask is how many homes we can build before a water source is overpowered. At home, we have a well that supplies sufficient water for me and my family.
Desalination works for us here. A good desalination plant that would produce 1,000 gallons a day would cost $20,000 plus another $20,000 - $40,000 to dig a well and for equipment and service, and more for solar power source, which is very expensive. The product of desalination is cool water that you can drink.
Most people use diesel generators for desalination. In Mexico, you are required to take water from a well, and all desalination plants discharge part of the water back. That water has to go into a reinjection well so it doesn't go back to the ocean. The high-content saltwater needs to be injected back into another well so it gets filtered before it hits the ocean.
Most of the residents of San José del Cabo use about 100 gallons of water a day, excluding those with huge gardens.
(Corral reef next to this residential enclave, Cabo Pulmo, Baja California Sur, Mexico, pictured.)
Posted October 31, 2017