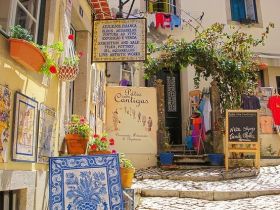 Most of the expat communities in Portugal are in Cascais, just west of Lisbon proper.
Cascais is a well-known retirement destination for the English people because of the connection that we have with England in the last century. Portugal is the oldest ally of England. We had a Portuguese Queen who married and English King. It is also popular for expats because of the golf courses. There are quite a lot of English clubs in Cascais such as the Rotary Club, the Women's Institute Club, etc. They even have a daily newspaper that is in English. There is also one in the Algarve as well, which is called The Portuguese News.
We have three English high schools in Cascais: Saint Julian's, Saint Dominic's, and the international school. These are all big schools so you would see that there is really a big expat community here. My daughter went to St. Dominic's. The schools here start from primary and finish up and then they leave for the universities.
Another reason Cascais is a top choice for expat communities because it is very near to the airport and it has always catered to expats very well. Cascais has a beautiful landscape and a very nice weather. It's a beautiful town by the coast. It used to be a fishing village, which has now turned into a tourist town. It's a very appealing and very nice. It is also about 20 kilometers directly west of Lisbon, which is the capital of Portugal.
There are also lots of expats in the Algarve, the majority of whom are also English. The reasons include the golf courses, the beaches, the weather, etc.
The main expat communities of Portugal are Cascais, Sintra, and the Algarve.
(Shops with English signs, Sintra, Portugal, pictured.)
Posted February 14, 2016