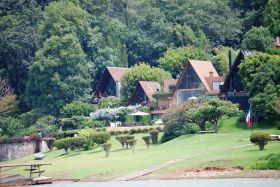 Mexico has everything. We have mountains, volcanoes, beaches, lakes, waterfalls and rainforests. Mexico is a very big country. In the northern part of Mexico, you will find mountains and deserts as well. It is overwhelming in Mexico City because everywhere you go in Mexico City, you will find beautiful mountains and volcanoes. These mountains are not dangerous and there are a lot of places where you can go for a tour.
There is a nice place that I like called Valle de Bravo. It's located in the state of Mexico, which is 45 minutes away from Mexico City. Valle de Bravo is located in the mountains and it has a beautiful lake, where everyone can go water skiing. There is also a lot of hiking, rappelling, and hand gliding. There is even an international hand gliding event in Valle de Bravo every year.
Where I live in the Yucatan Peninsula, you can find all the jungles that you like and it's fantastic because in the middle of the jungle, you can find ancient pyramids that have been there for thousands of years. You can find a little bit of everything in Yucatan as well.
Mexico also has world class beaches as it is mostly surrounded by water. We have beaches that are major tourist destinations and are known worldwide, one example of which is Cancun, where you have white sand and crystal clear blue water. Cancun is located in the Yucatan Peninsula in the state of Quintana Roo. We also have the Riviera Maya, which is located along 60 kilometers (around 40 miles) from Cancun, on the Caribbean side. One thing that is remarkable on the Caribbean side is the island of Cozumel. Cozumel sits right on the second largest barrier reef in the world so the diving experience there is amazing.
If you go to the Pacific side of Mexico, you will also find several beautiful beaches like Puerto Vallarta, Acapulco, and Riviera Nayarit, which is located in Nuevo Vallarta. You also have Los Cabos and all of the Baja region. The ocean on the Pacific side is a little bit colder, the water is a bit rough, and the color of the water is a darker blue, whereas in the Caribbean has crystal clear blue waters.
(Houses overlooking the lake in Valle de Bravo, Mexico, pictured.)
Posted February 14, 2016