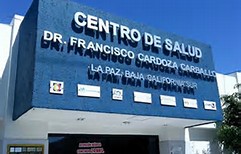 In Cabo there are several hospitals that I know that are very good quality. Doctors from all over the country work there. I have visited several doctors in Cabo because I want to have the best specialists available.
I really like the private hospitals in La Paz, which are very good. There's a private medical center in La Paz, too and I feel that the service they provide is very good and the insurance companies work really well with the hospitals in La Paz, as well as those Cabo. And we have two in La Paz that are for the general public that are good hospitals.
We have two public hospitals in La Paz, which are also very good, especially when it comes to major surgeries. The public hospitals have the most current and best equipment. Sometimes you will see a doctor in the private hospital but they will perform the surgery in the public hospital.
Our little town of El Sargento (about 40 minutes driving from La Paz) is typical of many smaller towns in the area. There is Centro de Salud, which is like the health center of the town. Normally the doctors in the Centro de Salud of a small town are physicians just graduated and they need to cover their hours. So they're sent to these types of health centers where they provide vaccines, care for minor health emergencies, and do follow-ups. Typically, the doctors will rotate in and out fairly frequently. They generally stay here for 6 months and sometimes less so you never have the same doctor. However, the nurse is the same person for years and it is generally the nurse who is the one who keeps and maintains that health center. You can see very good doctors or you can get average doctors, but for an emergency such as if you cut yourself, they can sew you up. If you're sick and you have the flu, they can help you. They help everyone who has a baby to give them their vaccines and check ups. For people with chronic conditions such as diabetes, they provide the medicine.
If someone has a medical emergency such as a heart attack or a stroke, they can call the ambulance at the health center and they'll take care of you and the doctor will ride with you in the ambulance to La Paz, or if there's no time you can have someone drive your car to the hospital. There's a phone number to Centro de Salud 24 hours a day. If no one answers, you can call the police and the police will make sure that the ambulance people pick you up and take you away.
We have like a group of 4 or 5 volunteer paramedics who been trained to help you in case the doctors are not available.
I've seen a couple of accidents happen. When they do, I always call the health center first and then they tell me what to do take it from there. I've ridden only once in the ambulance with a 75-year-old man who had many surgeries and organs transplanted. They helped us stabilized him and then drove us away. The people who have had heart attacks here have been able to make it all the way to La Paz with no problem.
There is also another option. In our little town, we have a good amount of retired North Americans, some of whom are doctors, so in their own community, they know who's the doctor, they call, they get advice and then they work together with the ambulance. I've never heard that somebody didn't make it to La Paz to get the medical help they needed.
(Pictured: Centro de Salud La Paz, Mexico.)
Posted June 19, 2016