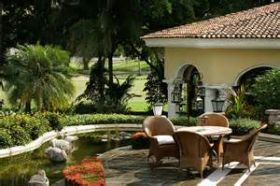 The house that I rent is small, but it has two floors. It has two bedrooms and one bathroom, a kitchen, dining area, living area, backyard, and front yard. My cost to rent this house is 3,300 pesos ($175) a month. The neighborhood that we're in is called Palmar de Aramara and it is located right behind Walmart and Sam's Club so we're in a nice location. Lots of expats also live in our neighborhood but they would have bigger houses.
The houses where expats mostly live would cost around $400 to $500 a month. Some expats even pay up to $2,000. Some have their own condos. But in general, if you want to rent a home in Puerto Vallarta, you won't spend more than $2,000 a month for a very big house with a pool, with two or three floors, three or four rooms, a kitchen, etc.
With a budget of $500, you could get a nice house with two or three rooms and the house would be located in a nice place with security and it will be furnished. Everything is very affordable. For $1,000, you could get a house in Marina Vallarta, which is a very fancy neighborhood. Marina Vallarta has big houses, small houses, and even studios.
I have a friend who rents a big house in Marina Vallarta. It has two rooms upstairs, two full bathrooms, and one half bathroom downstairs, a kitchen, living area, dining area, a big backyard, a big front yard, and a pool and he pays 20,000 pesos ($1,100) a month. That's not a lot of money for a huge house that's good for four people. If you want a house for only two people, I'm sure you could get something in that area for $700 a month.
(House with a patio, Puerto Vallarta, Mexico, pictured.)
Posted July 19, 2016