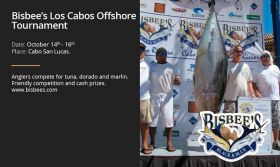 The best thing for me to do in Los Cabos – La Paz is to kick back and relax because my life is very hectic in the United States.
The most famous thing to do and the number one thing that brought people to Los Cabos and La Paz in the first place is the sport fishing. You could fish for everything; either you want to catch something to put on the table for dinner or join the big marlin tournaments that they have in Los Cabos. I think the biggest marlin tournament in the world, the Bisbee, is in Los Cabos, which is held every October. Fishing is what brought the Americans and the Canadians to Los Cabos back in the day.
Now, Los Cabos – La Paz have some of the most beautiful golf courses designed by some of the most famous golf course designers like Jack Nicklaus and Robert Trent Jones. There's a new golf course designed by Tiger Woods. There are a couple of small golf courses that are affordable for average people, but you could be paying US $250 to $300 a day to play on them because they're spectacular golf courses. Some people go to Los Cabos – La Paz just for that.
When I fly in, I like to see what kind of carriers and bags they have for these golf clubs. There are some spectacular pieces of luggage there.
A lot of people like to go walking and hiking in the desert. There are also the traditional things that you do when you go to sports areas like sky diving. There are airplanes in Los Cabos that take you up to jump out the airplanes. You can go on the wave runners, parasailing, and rent ATVs. You can also go down to the beach and do just about anything. Now they've got ziplining, too.
I always tell people, "If you're going to Los Cabos and La Paz and you're going to do these adventurous things, make sure that you have added extreme sports coverage in your travel insurance," because people don't think about that when they travel. If you get hurt during one of these activities and you don't have it added on to your travel insurance, you're not covered and they're always going to make you sign a liability waiver. When you're going to do these fun, adventurous things, you're going to sign a piece of paper before you get started, which says that the tour company is not responsible if you get hurt.
I'm an insurance agent, but I'm also a mom and a grandmother, so I'm giving this advice to make sure you're always protected with insurance when you want to do these fun things.
(Fishing tournament, Cabos San Lucas, Mexico, pictured.)
Posted June 16, 2017