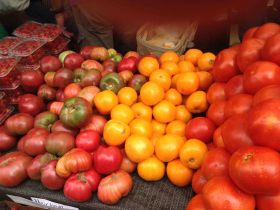 Food in the markets of Puerto Vallarta is much less than it is in the States. I've been going to the same local market here for 6 years and I get as much as I possibly can for a week, which would be two huge bags around 8 kilos (17.6 pounds) each and I don't think I pay more than 200 pesos ($11). From that, we make my juices. As an example, carrots are 14 pesos per kilo (about 31 cents per pound), tomatoes are around 18 to 20 pesos per kilo (about 40 cents per pound) so it's hard to spend more than 200 pesos ($11) for a family of four just for vegetables. This is not like a regular supermarket in the US. This is a farmers' market where the produce comes in and where the fishermen go and sell their catch. Bigger cities have much bigger farmers' markets. For seafood, it's the same thing. We live on a seafood port. Tuna runs about $8 per kilo (around $3.60 per pound). A red snapper is usually 130 per kilo (around $2.85 per pound). It's extremely reasonable. The only thing that has gone up here is shrimp, but everything else is very cheap.
There is a supermarket right across the street from my place. If you were to go to a supermarket, it's still super cheap. It may be 10% more than the price in the farmers' markets but it won't be more than that. The most expensive here is Costco because that's where you get the "pretty food". The bananas are perfect and the tomatoes look a certain way. The food that you get from the farmers' market do not look as nice so I call them "ugly food". They are not bad. They have the same quality as the ones in the US but they just do not look like the ones you will see in the big supermarkets. The food in the farmers' markets is good. I think it was just in the last 20 years that people figured that these foods need to look a certain way to be nice to the eyes, which is why you see the pretty food you see in stores like Costco.
Eggs usually are about 25 pesos a dozen (around $1.50). At the market where we go, they have some organic eggs for sale, which cost about 4 pesos each (about 22 cents). The bread here is usually hard bread to make bolillos, which is what they use to make the sandwiches. Bolillos are crusty on the outside and tender on the inside. They are not like the regular sliced bread that we have. The sliced bread probably costs a little more because that is not the typical bread that you will see here, though the price is less than in the US. The last time I went to Costco was when we were making a little picnic for a bunch of kids and it cost $2 for about 12 rolls of sandwiches. It's really cheap.
(Fresh vegetables for sale in market in Puerto Vallarta, Mexico, pictured.)
Posted July 09, 2016