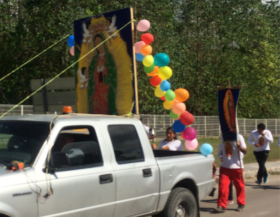 There are a lot of traditions practiced in Chapala and Ajijic. Locals have celebrations for saints and have parades, fireworks, and street fairs.
For example, the Virgin of Guadalupe is a big party here in Chapala and Ajijic every December 12. Another one is the Día de los Muertos or the Day of the Dead, which is a big celebration for three days.
A few days before to a few days after the celebrations, locals would put "altares" (altars) of the Virgin with candle and flower offerings in different locations on the streets.
On the day of the parade, there would be a "castillo" (castle) or tower of fireworks, which is normally placed on the church patio or the square. It's very interesting. The castle or tower structure is tall with four to six phases that they light successively, starting from the bottom and the fire would go up by levels. The castle of fireworks could be 9 to 12 meters (30 to 39 feet) tall. It could take 40 minutes to burn the whole castillo. At the top, there is a crown that starts to spin when the fire reaches it and eventually takes off up in the air.
Día de los Muertos, or the "Day of the Dead" is a very old tradition in Mexico that started from pre-Hispanic times. It is celebrated for two days on November 1st and 2nd. November 1st is the day for the children's death and November 2nd is for the adults.
People go to the cemetery and visit the graves and bring flowers, music, and drinks and spend the evening there with family members. The family brings what the dead person liked when the person was still alive; for example chocolates or tequila and offers this on the altar they set up for their dead family members. The altar is set up days before and kept a few days after and would have photos of the dead as well as the offerings. Some locals would also set up altars on the streets.
The ladies will also put on a dress like the character "Catrina" and paint their faces like a skeleton or use masks. This costume competition is very big. The ladies would often have fancy outfits like that of a wealthy person. There is music on the square where the costume competitions are also held and the best outfits are chosen.
Día de los Muertos would take place right around the same time that in the United States would have Halloween, in November.
(Click on
this picture
of the Virgin of Guadalupe procession, Villahermoso, Mexico to see the Youtube.)
Posted May 17, 2017