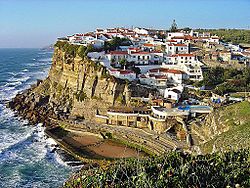 In the oceans of Portugal, there are no harmful animals like sharks but we do have jellyfish starting in the winter season. From November to January, you will find quite a lot of jellyfish on the shores. Some are still whole and some are bits but you just have to avoid them. Don't step on them, which is easy enough to do because you would see them on the shore.
You'd usually see jellyfish on the rough beaches and where the sea is rough. You won't see them on the bays. Cascais (an upscale area just to the west of Lisbon) is all bays. If you go up to the coasts of Sintra, where the seas are very rough and where they practice the radical sports, there is where you will see the jellyfish.
The waters in the ocean of Portugal are cold so sharks do not like it, especially on the west facing coasts, including the beaches west of Lisbon. Because the air temperatures can be a maximum of 35 to 37 Celsius (95 to 98.6 Fahrenheit), it's hot, so it's a pleasure to go into that cold water.
The oceans in the Algarve (which face south) are completely different from the oceans in Lisbon. The Algarve gets warms waters because of the Gulf Stream and because of the Mediterranean. The temperatures in the waters of the Algarve could be around 20 to 22 degrees Celsius (68 to 71.6 Fahrenheit) and up here in Lisbon, it's around 17 to 18 degrees Celsius (62.6 to 64.4 Fahrenheit). It's hotter and less windy in the Algarve as well. Lisbon is a windy area because we are on the westernmost part of the European continent. There is also a breeze here so we don't use air-conditioning in the summer because we don't need it.
The coasts of Sintra get rough waves but overall, the other coasts of Algarve and Lisbon are perfectly safe for swimming.
(The village of Azenhas do Mar on the coast of Sintra, Portugal, pictured.)
Posted February 04, 2016