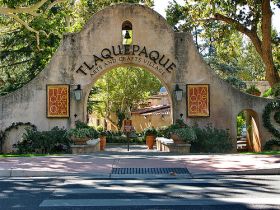 If you just need certain items, there are furniture stores in Chapala and Ajijic. However, to furnish an entire house, a lot of people go to Guadalajara. Furniture stores in Guadalajara have better variety and give better deals.
People also go to the town of Tonalá where they sell every type of furniture and handmade items in their street markets and you can get nice, cheap items. You would need two whole days to shop in the markets of Tonalá, especially during market days. Tlaquepaque is in a different part of Guadalajara where they sell a lot of the nicer products produced in Tonalá.
There's also another town that's about an hour away from Chapala and Ajijic that has small furniture factories called Ocotlán.
A lot of the furniture in Mexico is uncomfortable. You would have to shop around to find nice, comfortable furniture, but it's going to be considerably more expensive buying comfortable furniture pieces here in Mexico than buying them in the States.
You can find tons of handmade furniture with woodwork and hand-made decorative items like mirrors, paintings, and lamps. There are a lot of beautiful handmade items in Mexico that are quite cheap.
(Pictured: Sign marking one of the entrances to Tlaquepaque, Mexico)
Posted July 13, 2017