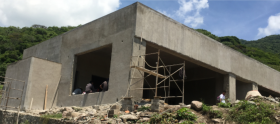 In Mexico, to begin with, we don't use sheetrock and we don't use wood as much as in North America. We use mostly adobe bricks and we use concrete. So, it's very difficult for a house to fall down in Mexico because of the way our culture is you build a house not to fall; it's a "forever house."
If you're coming to build a house here, my recommendation is go and see our building department in the county. Talk to the director of the building department to make sure that your plans are authorized so you have the right permits and that your architect "dots his i's" and "crosses his t's" so you don't have any surprise hiccups along the way.
You're supposed to have the correct permits from the government and have them authorized. Your "albañiles" are the builders, and the architect is called the maestro, which is like a teacher of the building and tells people what to do on the job. The job coordinators have the right permits and also have the insurance for the people who are on the job.
The insurance for the workers on your house is through IMSS, which is the Mexican Institute of Social Security. It is not Social Security in the United States as we think of our security cards. IMSS provides insurance to make sure the workers are insured in case of anything. There are people who walk around from the government making sure everyone has job permits or they'll shut them down. The fines to not have the permits are very expensive so if you're building something, get your permits, make sure you have everything in order, pay people the right payments, and make sure, if you're coming to Mexico and building a house, hire someone who knows what they're doing.
For example, you may ask an owner of a hardware store, Luis Lopez, "Luis, I would like to build a house." He will tell you, "Alright sir, (he speaks English) I can tell you who to recommend, who you need to see, and make sure you get the right type of permits. Go see the director of the building department. See the architect to make sure your plans meet the standards for the neighborhood you're building in." The people here go out of their ways. If you ask one question, they will see how they can help you. And it's also the way you ask things. Always use your "please" and "thank you." They really like that.
If you hire some sub-contractors that do not pay their workers IMSS, and someone falls on your property, you're responsible. If you are unaware of your sub-contractors not paying IMSS, let the IMSS know and get up to date and ask. See someone to find out how you can fix your situation. You're notified when you don't pay IMSS. It's not just a random document that comes in. you'll receive a notification in Spanish. If you receive a notification, the first thing you'd do is to call ask someone who speaks Spanish and ask what this states and call an attorney or call a concierge. In this type of things, there are people who specialize in this area that you can have help if you would not like to call an attorney. It's not generically that you have to always call an attorney. An attorney isn't just someone who goes and takes… we do take care of these problems but there are other people who also can help you.
(Construction workers building a house with cement, Lake Chapala,Mexico, pictured.)
Posted July 26, 2017