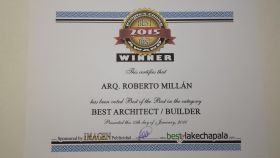 Construction in Chapala and Ajijic have different standards and quality. First off, I've seen through the years that when foreigners come to Chapala and Ajijic, their idea is that architects here are the same as architects in the United States or Canada, wherein architects are very specialized as designers, while others are the builders. In contrast, here in Chapala and Ajijic, most of the architects are also designers and builders. When I tell my clients that I'm a builder, sometimes they are surprised because they think that I'm just a designer, as opposed to just being an architect.
There are also some foreigners who hire only contractors in Chapala and Ajijic to build their houses. They get a design from a magazine or book and hire a "maestro" ("contractor" in Spanish). The quality of houses in Chapala and Ajijic built by a "maestro" will depend on the owner's specifications. The owner can specify what they want so the maestro will know what to do. However, in general, the quality and standards of a house built by an architect is better than those built by a "maestro." Some architects propose or give ideas and suggestions to the client.
To be an architect here in Mexico, you need a degree from a university, be licensed, register with the state or federal government, and be assigned a number, like a doctor.
On the other hand, a "maestro" or general contractor in Mexico may be someone who used to be a gardener or a painter and who just started to work in construction. After a year or two of construction experience, he becomes a contractor. They don't need to be licensed.
That's a big problem for us professionals who study in the university. We prepare, but our competition are the contractors. As I wrote above, contractors don't need to be registered to build. There are some contractors that have more work than me as an architect.
When you go to city hall to get a permit for a house, the drawings must be signed by an architect or engineer with a degree and be officially registered. There are some engineers or architects who ask for a fee to sign drawings or plans because city hall will not stamp a permit if it's not signed by a professional, but they don't do anything else. Once the plans are stamped, city hall no longer checks who the builder is or the quality of the construction, but they do check to make sure the plan is followed.
(Roberto Millan's award for Best Architect / Builder from Best Of Lake Chapala com, Lake Chapala, Mexico, pictured.)
Posted May 06, 2017