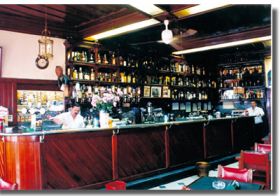 You can indeed buy or you can create a business in Portugal. If you buy a business or create a business and you create a certain number of jobs, you will also be eligible for the Golden Visa.
Businesses in Portugal are transacted regularly. My perception is that small businesses don't tend to be bought by external investors. Sometimes external investors will make an investment into a business but they wouldn't tend to buy a small business. Large businesses, however, including state-run businesses and utilities, have been increasingly put up in order to obtain foreign investment. We have a lot of Chinese investments into what are essentially state-run businesses and private partnerships in the energy sector, the health sector, the transportation sector, and the power distribution sector.
You can buy businesses here in Portugal. It is very transparent. It is market-lead and you could buy or start a business in many ways in the entire country.
(British pub in Portugal, pictured.)
Posted January 31, 2016