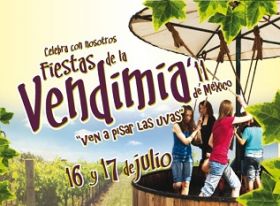 Readers, us locals always say "If you're bored in San Miguel de Allende, it's your own fault!" We boast an abundance of good restaurants (I provide my clients with a listing of the 80 best restaurants out of our 320 or so restaurants we claim here) offering everything from wine-flight-paired international tasting menus to a Russian bistro and everything in between.
In addition to the above-average quality of the restaurants, we now have at least three annual multi-day international food festivals, drawing chefs from all over the globe (think Aspen's Food & Wine Festival, but on a much more approachable scale!).
And now that we are officially designated as the second biggest wine region in Mexico, the entire month of August (lucky for us Leos!) is vendemmia month, where a different winery each weekend hosts a huge grape harvest festival boasting incredible food presentations to accompany the increasingly better wine production. Don't worry, you'll walk off all the calories exploring our very walkable city!
Posted April 18, 2017