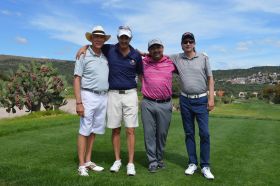 The residents of San Miguel de Allende are 15% foreign or non-Mexican. You would think the number was higher because the non-Mexicans tend to congregate in Centro San Miguel de Allende and that is where you feel our presence.
The majority of foreigners are from the US, but heavily represented are also Canadians, Europeans and you even see more people from Asia than you used to. You see people from all over the world now. There are still more Americans but the residents of San Miguel de Allende is diversifying. A few years down the road, there won't be a monolithic block of American tier that it used to be.
Here at Ventanas de San Miguel we have a dozen different nationalities aside from Mexican nationals. The people living in San Miguel de Allende is a real mix.
San Miguel de Allende has also become the kind of place where you run into Mexicans who are originally from other areas of Mexico. San Miguel de Allende is still small town but is booming economically and thanks to the Internet, people can run their business from outside their cities now. The standard of living is so good in San Miguel de Allende that a lot of younger Mexicans who have technology related jobs, run their own business and figure out a way to live here. A lot has changed because the population has grown substantially in the last 20-30 years. The person you run into here is not originally from San Miguel de Allende compared to how it used to be.
(Golfing friends, Ventanas de San Miguel, San Miguel de Allende, Mexico, pictured.)
Posted January 11, 2017