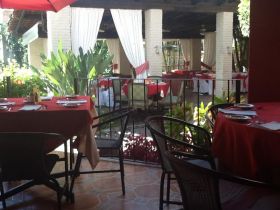 The cost to eat at a restaurant in the Ajijic / Lake Chapala area is generally about 60% less than in the US.
Here are some examples:
An all you can eat Mexican buffet on the lake with white tablecloths, waiters, an omelet bar, fresh juice, about 50 different entrees, etc., for the equivalent of $6.50 each. (Bambu, in the Touristic Zone, near San Juan Cosala.)
Fried fish entree with vegetables, etc., at a restaurant right on the square in Ajijic (Chile Verde). I forgot the exact price, but I remember it to be about $3.50.
You can get tacos at the Wednesday Tianjius for 50 cents each. Two is as many as you should eat, or you can eat three becaue they're so good. At the same tianguis, you can get a plate of steamed vegetables for less than $1.50.
On their two-for-one for fish and chips at the Brew House, you will pay $2. (That's right; $2.)
If you want to go to a beautiful garden setting and have an great American-style dinner, along with live music and wonderful staff, you can go to Roberto's (pictured) and pay about a third of what you would pay in the US or Canada.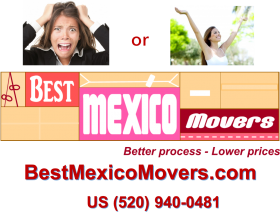 We have restaurants with peacocks walking around, Argentinian food, Thai food, etc., all for significantly less than half price as in the US... and it's great.
As they say in Mexico, buen provecho (enjoy your meal)!
If you need a mover to move your household goods to Mexico, be sure to check out
Best Mexico Movers.
Posted July 14, 2018