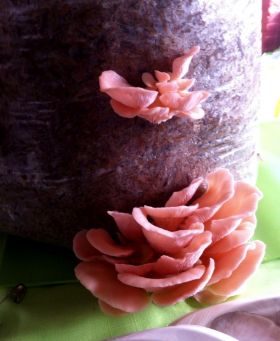 There's a bakery that sells delicious, marvelous, fresh and tasty bread in the market in Chapala and Ajijic.
There's a market in Chapala and that sells fresh fruits and vegetables that are cheaper than in the supermarkets. If you go to the artisan markets in each of the towns in the Chapala area that are around once a week, you'll get fresher, more interesting, and much cheaper produce, nuts, and breads, but I would not recommend buying meat there.
You can go to these artisan markets or to the American-style supermarkets like Wal-Mart or Soriana, a Mexican supermarket that can be compared to a typical American supermarket, where you'll find products very similar to what you'll find in the United States with prices that are about 30% cheaper, generally speaking, for produce and meats, unless it's imported from the US, in which case it will be the same price or more as in the US.
(Pink mushrooms at the Lake Chapala Farmers Market, Ajijic, Mexico, pictured.)
Posted February 12, 2017