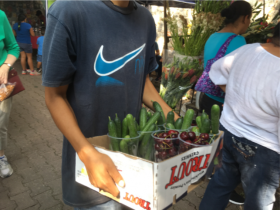 Food in the markets in Chapala and Ajijic typically are of very high quality, very fresh, picked today and sold on the market some time tomorrow, available pretty much all year long. There might be a few things like mangoes and tomatoes that tend to be seasonal and a couple of other things but for the most part, you can get just about everything all year long.
It's just a matter of finding what you prefer; if you prefer the outdoor markets or if you prefer to go to some places that are permanent and fixed. I go to three or four different places. I even go to Walmart for some things because I like the quality of their melons and their watermelons. I go to my little corner store for bananas, lettuce, and tomatoes. I go over to the big market in Chapala to get things like spinach, broccoli, and onions.
When you get used to things, you've got the time, or you're driving by, you can go to different stores. If you don't care, you just go to Walmart and buy all your food there or just go to the Mexican supermarket and buy there. But invariably, it's way cheaper than what you would spend up North. The cost of survival is just incredibly less in Chapala and Ajijic.
Off topic, you don't have to buy long-sleeved shirts. You don't have to buy boots. You don't have to buy parkas unless you're riding in the back of a pick-up truck at four in the morning.
For the markets you have a choice between the US/Canadian style supermarkets like Walmart or even the Mexican versions, which are Soriana, Chedraui, Mega, and Aurora. They have good prices.
You could go to a little tienda, which usually have signs that say "abarrotes," which means "groceries" in Spanish. These are tiny, little stores, normally family-run, and no more than 100-square feet. You could go to farmers' markets every week. Ajijic has its Wednesday farmers' market. Chapala has its on Mondays. San Juan Cosala, which is another little area, has its market on Tuesdays.
Here in Chapala and Ajijic, we have a lot of individual places, which I don't think they have so much in the US any more like a butcher by himself or a guy who sells seafood by himself. You can go to these roadside stands where they'll have fruits or vegetables sometimes, as opposed to in the US, you will just go to the supermarket.
The little tiendas are the least expensive. You never know what they're going to have. Sometimes they've got a box of fresh mangoes. The first mangoes I saw this year were in my little tienda. It was totally unexpected because it was the end of January. Wow! This is a month early for mangoes.
(Fresh produce, Lake Chapala, Mexico, pictured.)
Posted May 25, 2017