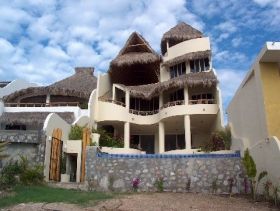 Expats in Puerto Vallarta blend into the society very well. There are no real issues despite having people from different walks of life. A huge amount of the income of Puerto Vallarta is brought in by wealthy expats. Then there are also the group of retirees who are living off a Social Security check. You could live off a US $1,000 a month Social Security check or you could live off a $50,000 a month oil check.
It's possible to live any way you want in Puerto Vallarta. You'll find different social classes of people living right next to one another, which is a more realistic and interesting way to live than being secluded within walls or in gated communities.
The expat population in Puerto Vallarta has changed quite a lot. When I first came here, the expats were wealthier retirees who bought big houses and nice condos. Now, you're getting expats living on moderate incomes who are looking for a lifestyle that they can no longer afford within the US.
Over the years, the expat demographic has changed a little bit because you have more accessibility on account of us now having a tremendous number of flights coming in this year. The landing rules have changed in August of this year.
People are flying in now because airline tickets and travel costs have dropped. There are more tourists coming in from the West Coast and Arizona on airlines such as Southwest, Alaska, and Virgin. We've always had many direct flights from Canada that fly out from various cities such as Vancouver, Calgary, Toronto, and Montreal. We now have direct flights from London so you're also getting that mix of people. You can now fly for 40% less from Dallas or Houston on Southwest. With all of these, you have more consistent travel and whole different groups of people coming to visit Puerto Vallarta.
The airport is under construction now, which when done will probably add 20% more flights. I don't know the exact detail of how many people are coming in this year, but I know all the figures are up for airlines, hotels, and all the tourist businesses.
These tourists coming to visit Puerto Vallarta eventually become buyers of condos. Once they're here, they stay three to six months and then realize that they can live very comfortably and have a better lifestyle living in Puerto Vallarta year-round. Quite often that's how people start, by coming to visit.
There is a big diversity of expats in Puerto Vallarta where you've got the wealthy mixed with expats who are living on Social Security checks. I know wealthy oil people with untold amount of money who live here. Frankly, all expats live pretty much in the same way.
There are so many charitable organizations set up by expats in Puerto Vallarta. You can go to all the benefit parties and charitable events that you wish or you can just live a very simple life. It's up to you.
Most areas of town in Puerto Vallarta don't even require a car. I am within walking distance of my home. There are 15 buildings to show to my clients that are being built in the area that is a 15-minute walk from my office. These properties start at US $180,000 and go up to $1 million. You see the diversity among those who are going to buy a $180,000 property as opposed to those who are going to buy a $ million property.
(Home with a private access beach, near Puerto Vallarta, Mexico, picture.)
Posted May 21, 2017