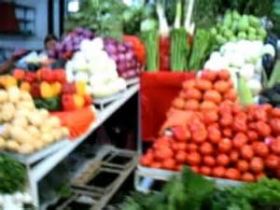 The price of food in Chapala depends on the places, the food that you eat, and the wine that you choose to drink. For example, for a daily budget of 50 pesos (US $2.41) per person, you can cook at your place and have great food.
Food prices also depend on the mercado (market) that you go to. For example, if you go to the Ajijic Street Market on Wednesday, you will find that the fruits and vegetables are more expensive there than if you go to the street market in Chapala on Mondays. Chapala is the best place to buy fruits and vegetables. You may find zucchini for 15 pesos (US $0.72) a kilo (less than 35 cents a pound) at one place in Ajijic, and you may find the same thing for 11 pesos (US $0.53) at some other place. That's a difference of 3 or 4 pesos (US $0.14 – US $0.19).
I cook for four people- two adults and two kids. In a week, I spend around 3,000 pesos (US $144) on food. When I go the supermarket, including all the miscellaneous things that I buy, I would pay around 2,000 pesos – 3,000 pesos ($96 - $144). That's expensive, but that's because I don't usually care about the prices that much when I buy food because I need it. I need tomatoes, so I just go and grab tomatoes regardless of the price.
For just the food, I'd say I spend about 700 pesos ($33) for the four of us for a week. That's if I organize my shopping, because fruits and vegetables are cheap. Instead of going to Wal-Mart, if you go straight to where you'd find fresh chicken, a bunch of tortillas, or some cheese and beans, you can get a better deal for the price, especially if you go to the street market.
(Market in Chapala, Mexico, pictured.)
Posted December 17, 2016