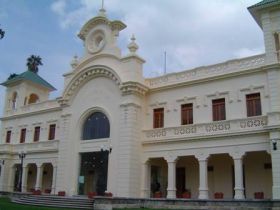 In 1879, it was recommended to Septimus Crow (who was an official from the British Embassy) to come to Chapala to use the minerals in our hot springs for an illness. Septimus Crow was the first foreigner who arrived in Villa Montecarlo, at what is now Hotel Montecarlo. In that area he built a villa. After him, many other foreigners started to come and built many houses on the shore of the lake. Almost one year after, Hotel Arzapalo was built, which is now where is the City Hall.
Porfirio Diaz, the president of Mexico for several decades, used to come to vacation to Lake Chapala. When Septimus Crow built his villa, many other houses along the shore all the way to where is the Malecon in Chapala from the Montecarlo were constructed around 1879, which is when the foreigners started to come to Chapala.
Up to the 1860s, Chapala was very popular. In this period many rich people from Mexico City, foreigners, and ambassadors used to come to Chapala. And then there was the train station. There was another Norwegian who came and built a casino and started the train station where it's located in the Museum Gonzales Gallo in Chapala. And you will see on the second floor there will be pictures of this Norwegian who came here and tried to build a business. There was another casino building. I'm writing this so that the readers know that the native people like me were used to foreigners to come in this area because foreigners were coming since the 1879.
Ajijic started to be popular around the 1940s and 1950s, when foreigners came and established here. Since then it's become more and more popular.
In the 1960s where today is the Lake Chapala Society, there was the lady who made a donation the house. She was very famous and used to work for National Geographic. This woman was one of the ones who promoted Ajijic to their contacts or friends.
Michael Eager had built and run La Posada as one of the few, main foreigner families that established here in Ajijic. They built a hotel and promoted the area, which brought in a lot of people.
Arzapalo was the first hotel. And then there was another hotel, Nido.
And then there's another foreigner who came here, Alberto Braniff, who was the first foreigner who flew in Mexico. Braniff built a villa that now is Restaurante Cazadores. The house next to the main church with the Victorian architecture was constructed by Alberto Braniff. There is a statue in the international airport in Mexico City of Braniff honoring the pioneers of the Mexican aeronautics.
(Museum Gonzales Gallo, Chapala, Mexico, pictured.)
Posted November 07, 2016