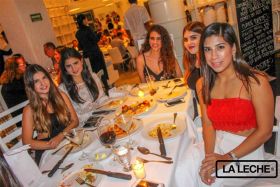 A fancy dinner in Puerto Vallarta could cost you around 200 pesos (US $11) per person for the main dish. Dessert is around 50 to 60 pesos ($3 to $3.50) person. Restaurants in Puerto Vallarta usually have a full meal with dessert for around 300 pesos ($16) per person. One example of a restaurant with these prices is La Leche, which is a gourmet place in Vallarta. Their restaurant looks interesting, too, because they have a monochromatic theme.
For 100 pesos ($5.50) per person, you could get some good Mexican food and soda. You could also get tacos and soda or fresh water for around 150 pesos ($8.20) per person. This would be in a sit-down restaurant where they have waiters to serve you.
On the low end, you can spend 30 pesos ($1.65) and buy tacos. There is a guy who delivers really good tacos to our office. You get six regular-sized tacos for 30 pesos ($1.65) so it's 5 pesos (27 cents) each. It is good enough for lunch if you're running low on your budget. If you have lots of money, you would still buy it, though, because it tastes good.
(Diners at La Leche Almacen Gourmet restaurant, Purto Vallarta, Mexico,pictured.)
Posted September 08, 2016