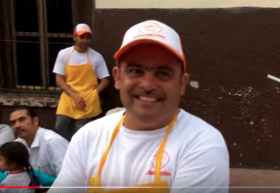 What your neighbors would be like in the Lake Chapala / Ajijic area would of course, depend on where you live. Over all Lakeside (the area from Jocotepec to Chapala, including Ajijic), probably about 80% of the people or so are Mexicans, while only 20% or so are expats.
If you choose to, you could live amongst working-class Mexicans whose occupations range from housekeepers to gardeners to proprietors of small grocery stores and shops or even the guy making pizzas outside in Jocotepec, who is pictured above. If you did this, you would have very few neighbors who weren't part of the group I just described, and as an expat, you would stand out.
You could also live in an area that looks like it could be part of the first group, but has been gentrified to a certain extent in certain areas, for example, the central village of Ajijic area and its surroundings. The houses in this area would tend to be traditional, with some a bit larger and some re-furbished, with a sprinkling of new homes. The lots would tend to be small. Some of the houses are quite spectacular on the inside and some have extensive and beautiful gardens. The homes could be quite expensive, for example, $400,000 for a three-bedroom house with a small garden. The people living in these areas would be quite mixed, from the same housekeepers who lived in the first group who live in a home that may have been in their family for generations, to the upper-middle class American who cashed out of their home in Northern California. As time goes on, the former are selling and the latter are buying.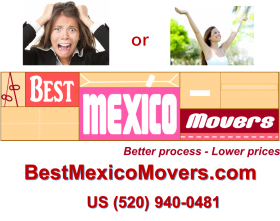 Another place you could choose to live would be in one of the many fraccionamientos (residential developments ranging in size from less than a dozen houses to several hundred), some of which have their own golf course, pool, tennis, etc. Some fraccionamientos are brand new and others have been around for many decades. Most but not all have some type of security such as a live guard or some type of security gate. In these areas, it is not unusual to have a mix of perhaps 1/3 local Mexicans, 1/3 expats and 1/3 wealthier Mexicans (usually from Guadalajara) who visit only on the weekends, if then. Given that the part-time wealthy Mexicans are so rarely at their second or third home at the lake, the feel is that the area is about evenly split between Mexicans and expats.
Interested in moving to Mexico? Check out
Best Mexico Movers
.
Posted August 10, 2018