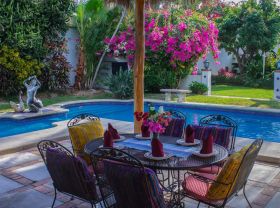 You could buy a nice, new, average, but small house in Puerto Vallarta for $150,000. You can buy one that's very large for $6 million. This is all within a very small area and not sectioned off into different parts of town. These properties are within a five-mile radius of this office. You've got diversity in construction.
The average price for a condo in Puerto Vallarta is around $250,000. The average price for a house is probably in that same category.
For a $250,000 condo, you can get one that's 10 to 20 years old, about 2,000 square feet, and could possibly need some updating; or you can get a brand new condo that's about 1,100 square feet, but has an elevator and security service. The newer buildings are ADA-approved buildings that people could get in and out of easily. Some of the older buildings have a lot of steps and no elevators. You have an assortment of properties within the various areas in Puerto Vallarta. Many people prefer the older buildings because they feel like these are more Mexican.
Some of the newer $250,000 houses are garden-style homes with three bedrooms, two-and-a-half baths, feel very contemporary, and have a very clean line look. A few traditional houses are trimmed in brick or Cantera stone and are quite often two stories. These houses are usually on a zero lot line or have common walls.
(One level villa, Puerto Vallarta, Mexico, pictured.)
You don't find many houses built on lots with big lawns. The cost will bump to $500,000 to $600,000 for a large house on a lot size of 1,000 square meters (about a quarter of an acre) like what we would have in the States.
Posted May 26, 2017