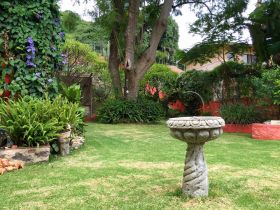 To get a housekeeper in Chapala and Ajijic, it costs 250 pesos (US $12), which a reasonable payment for a housekeeper to clean your place for 4-6 hours. That's standard. They usually charge Americans 50 pesos (US $2.41) an hour.
The rates for a gardener in Chapala and Ajijic depend on the time of the day, because they work in different houses, so sometimes they don't have a very tight schedule. Gardeners get paid weekly depending on the size of the garden. Their rates go from 500 pesos to 1,000 pesos (US $24 – $48).
I have a gardener, and for the 4,000 meters that I have (about an acre total), I pay him 1,500 pesos (US $72) per week. For that he comes every day and takes care of a lot of things. In the street where I live, I own two houses, and each house has 2,000 square meters, and he takes care of both houses. He's like a handyman in the houses, and he also comes to the bazaar to help.
(Garden in Ajijic, Mexico, pictured.)
Posted December 21, 2016