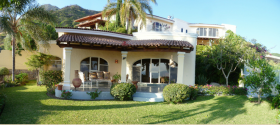 The cost of a housekeeper or maid in Chapala and Ajijic is 300 pesos (US $16) a day for cleaning done once a week. That's about 50 pesos ($2.60) an hour for about six hours. We've had her for about two years.
Our maid does a good job. She is a woman with a broken family; three children from three different men. The oldest child has cancer. My wife found out about our maid's trials and tribulations so she gave her the job mostly just to help her out. She's a middle-aged woman, strong, who obviously wants to do something to help her family and pay her bills.
When trying to find a good housekeeper, it's a good idea to ask around. Quite often, people will have a maid who has two or three days of work a week and is looking for something more. You can find housekeepers that way. You can find out as you ask if she does a good job. You should also ask if she's honest. That's the main criterion because a lot of people had trouble with maids leaving with some of their goods each day, particularly if you're not there.
I, personally, like to get out of the house when the maid is there because I don't want to be under foot. My wife likes to be there to make sure everything is done properly.
For those who want to be out of the house, then you have to be concerned about what's leaving when the housekeeper leaves if you're not there to see her out the door. That's a big issue to take care of. Back in Canada, I had a maid steal from me, but not here in Mexico.
(Lake Chapala, Mexico home, pictured.)
Posted April 29, 2017