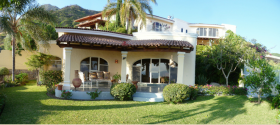 Generally speaking, a housekeeper or a maid in the Ajijic / Lake Chapala area will cost around 50 pesos an hour. At the current exchange rate, that's about $2.50 per hour.
In addition to that, they may ask for bus fare (maybe a dollar or so, or less), you may want to feed them (we do), and, for long term arrangements, you should pay a bonus just before Christmas of one month's salary for a year's work. For example, if you have a housekeeper for one day a week for four hours and you had her work for you the entire year, you would give a bonus of around 860 pesos (200 pesos per week x 4.3 weeks in a month), or, around $43. If they had worked for you for six months, you would pay around 430 pesos.
You can certainly pay more per hour or give a larger bonus, but what I'm quoting is the going rate.
If you need a mover to move your household goods to Mexico, be sure to check out
Best Mexico Movers.
Posted July 14, 2018