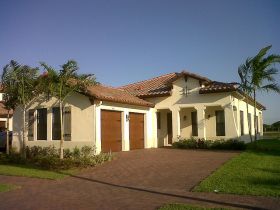 The cost of getting a housekeeper or a maid is typically a little higher in Chapala and Ajijic compared to most areas in Mexico because of the influx of Americans and Canadians. Housekeepers in this area will generally charge 40-50 pesos (US $2 – US $2.50) an hour. Although it is very economical, I find this price range on the high side, because if you go to small or rural towns in Mexico, the housekeepers will most likely charge less. Some housekeepers in the Ajijic area will even ask for more, like 60 pesos (US $3) an hour.
If you have a housekeeper who works full time, then you will be able to get a better hourly rate, similar to having a gardener whom you pay $60 pesos or more (US $3.00 or more) an hour. If you have this gardener working full time or 40 hours a week, you'll pay less.
We have a big yard in Chapala. My gardener comes in Mondays through Saturdays and works from 9 AM – 3 PM, 36 hours a week. Typically, like many gardener & maids, he can still go to other people's homes to some work in the afternoon and improve his income.
(House and garden in Chapala, Lake Chapala, Mexico, pictured.)
Posted February 15, 2017