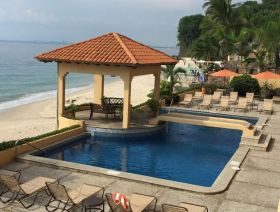 Puerto Vallarta is safer than any city in the United States with a population of 200,000 or more people. I came from Midland, Texas, which has a population of around 100,000 people. Midland probably has double the crime rate of what Puerto Vallarta would have; both violent crimes and crimes against property.
However, these comparisons would not be appropriate because Midland Texas is in the middle of West Texas oil country with an oil economy base and Puerto Vallarta has a tourist economy base.
There is always a lot of press and media on the drug bases in Mexico, which is driven by the American economy. You have those issues that will never change in our lifetime. However, it's been more controlled and quieter here in the last 10 years.
It's not quite as sensational having someone murdered in Juarez, Mexico as having 60 people murdered in Chicago over the weekend.
I feel much safer in Puerto Vallarta. I don't take my key out of the car and I don't lock my house.
(Condo pool at Punta Negro, Puerto Vallarta, Mexico, pictured.)
Posted May 19, 2017