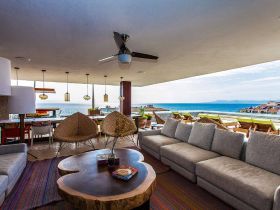 One of the best things about living and retiring in Puerto Vallarta is the cost of living, which is very inexpensive.
You can buy a beachfront condo for US $210,000. We sold one last week that has two bedrooms and two baths. I don't know of anywhere on the continent on the East or West Coast where you can do that in an area that has medical services, food services, and all other services required to live comfortably at 10% of what you would spend within the US.
The cab service is great here in Puerto Vallarta. There are lots of taxis and the cost is very inexpensive. You can go anywhere in the Romantic Zone area where we are now out toward the marina for from 50 to 100 pesos (US $2.60 to $5.20). In Puerto Vallarta, you would never pay $100 for a cab ride like you do in the US. That's what I pay to go from LAX Airport to Doheny in Beverly Hills. That just doesn't happen here in Puerto Vallarta.
Most of the food in Puerto Vallarta is grown within 50 miles. We don't eat canned or frozen food. There are very little food products that have any ingredient supplementation of any kind and are natural so our diets are much better.
My close friends who are in the States all live in West Hollywood, Beverly Hills, Westwood, and around that area in LA. By the time we park the car, got the four tickets for the movies, and each get a Coke and popcorn, we have spent over $135.
The last time I was in Los Angeles, I drove to see an old client of mine. I was in Beverly Hills on Doheny and I decided to drive myself to Long Beach. On the GPS, it was 18 miles. My friend who lives in LA let me borrow a car and driver and the driver said, "Do you want me to take you?" And I said, "No, I know where it is and it's just 18 miles." So I took one of the cars and drove myself. It took me three-and-a-half hours on the freeway to go 18 miles. People do that all day long in LA
I find it shocking when I go to LA because that the living expenses are so high. We buy a bag of fruits in the grocery store in Puerto Vallarta for about $4 to $5. I go to the Pavilions in West Hollywood and the same grocery items would cost around $35.
In Puerto Vallarta, we don't wait for anything, don't have traffic issues, and don't make reservations in the restaurants, except maybe during Christmas and New Year's. Living in Puerto Vallarta is a totally different lifestyle. You don't drive for hours and don't carpool.
The worst thing in Puerto Vallarta is the public transportation. It's excessive, loud, and pollutes the area. The buses are too old and large for the streets and they should be replaced by smaller people movers.
The bus system has been a consistent problem because there are two different bus unions and they have hard stances on issues. As with the unions in the US, the unions here in Puerto Vallarta are very strong and important politically. One issue is that the buses keep on plying the roads whether they have passengers or not. It is a necessary evil, but it's very disjointed. However, there will be changes over the next three or four years with fewer buses and updates to more modern facilities.
(Condo open to the Pacific Ocean, Puerto Vallarta, Mexico, pictured.)
Posted May 16, 2017