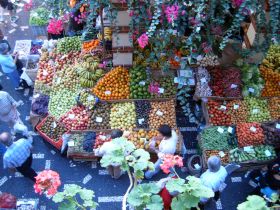 Shopping in the major centers of Portugal is just like the shopping anywhere else in the world. There are big malls that are open seven days a week. There are outlets, too. There are major centers in Portugal where you have an extremely wide variety when it comes to shopping.
In the countryside, you will find smaller shops and more traditional shopping and the quality of the goods may not be as good as the quality of goods sold in the bigger cities.
There are a lot of foreign distributors here in Portugal, especially French and German grocery retailers. Sometimes I find more choices for exotic fruits in Portugal than I did in Spain because they import a lot of Brazilian food and fruits that you would not find in Madrid, for example.
If you are going to walk in a mall in Portugal, or in Spain, or the UK, you will find that the prices are not that much different. The only difference on the price would be because value-added tax (VAT) here in Portugal is a bit higher than in Spain. That is unavoidable; it's not something that the shopkeeper can control. The VAT in Portugal is 23%, while it is about 21% in Spain. Since the VAT is 2% more in Portugal than in Spain, you can count (all other things being equal) that the goods in Portugal would be about 2% more expensive than in Spain.
Overall, shopping is great here in Portugal. All the big brands such as Nike, Tommy Hilfiger, and many other American brands are here, too. My wife doesn't complain about the lack of shopping here. On the contrary, I complain about her excessive shopping!
(Fruit market in Madeira, Portugal, pictured.)
Posted January 10, 2016