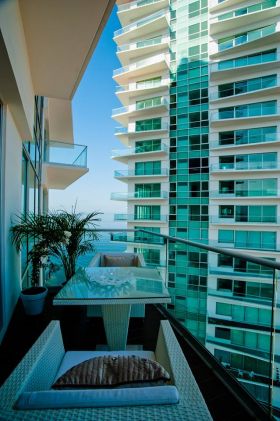 Construction standards in Puerto Vallarta are different than what we have in the States. In the States, we use a lot of sheetrock and wood for the principal construction. In Puerto Vallarta, you'll find some sheetrock in new construction. Old construction used reinforced concrete and concrete blocks. You don't have real issues with fire insurance in Puerto Vallarta because there's nothing to burn.
There is recent construction in Puerto Vallarta which uses steel structures. We have one building like that going up now, but most of the buildings are made of reinforced concrete with pilings that go deep into the ground.
In Puerto Vallarta, many of the new buildings are built with similar, if not more, qualifications as the US, such as earthquake construction standards in California, that would withstand hurricanes, earthquakes, and fire.
Expats coming to Puerto Vallarta intending to buy a house or condo need not be concerned that what they're buying may be so poorly constructed that it's just going to fall down. Buildings are concrete. It's interesting because you don't have all of the regulations that you would in the US, but you're getting a better product. You're not getting a wooden house with shake shingles on the roof that would burn up in 10 minutes. You've got a concrete building. Even if it were a very simple building, these are buildings built to withstand different weather conditions.
As in Europe, you don't see a lot of sheetrock in Puerto Vallarta. The sheetrock that is used now in new construction is used for the overall look, as a niche, or for decorative architectural designs within the properties. Designers use sheetrock to do the design rather than do it in concrete. The building's main structure is heavy concrete, but we are now seeing some structures with steel.
(Condos in Puerto Vallarta, Mexico, pictured.)
Posted May 18, 2017