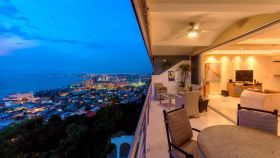 Many of the homes in Puerto Vallarta are very solid; built of solid cement walls and solid cement roofs. They insulate well. They're a little bit more expensive to build than some of the new stuff that is happening now, but most of the construction is very good.
There are some super Mexican architects who are doing some incredibly beautiful architecture these days and the quality of the construction is incredible. Since I moved here in 1999 Puerto Vallarta has grown, and so have the materials that contractors are able to use. A lot of the construction that's going on in Puerto Vallarta is world class and it's just as good as anywhere you can find in the world.
We have to pull permits but we don't have the building code restrictions that we're used to having in the States. So you can do more, which allows the Mexican architects to do some more creative design work and you can find some fun and exciting things in Mexican architecture because they have a little bit more freedom.
When we take a client out and they find a property that they like, we always do a physical inspection of the property which includes drainage, electrical, plumbing, and the utilities; a top to bottom inspection of the property so that our clients know exactly what they're getting when they puchase their home. By the time we get through showing our clients the properties that are available and things they like, most of them don't necessarily want to do renovation projects. They like to know what they're getting when they're purchasing because they don't want to have problems to deal with after they close.
I am in a building right now that was constructed by a California developer that was built to California state code seismic recommendations. It's sitting on 216 pylons that go 30 to 60 feet into the ground. It has an outlet every 6 feet, etc.; all the code standards that we're used to in California. This is not all that unusual; there's a lot of really good construction here in Puerto Vallarta.
(Penthouse overlooking Puerto Vallarta, Mexico, pictured.)
Posted May 13, 2016