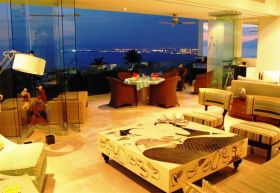 The maximum cost for a housekeeper or a maid in Puerto Vallarta who comes every day would be approximately US $150 for a six-day week and that includes their lunches. On occasion, expats hire live-in maids for about the same rate, except you'll be furnishing them with living quarters and food.
The Mexican government has a set-up where the employer and government pay monthly shares into an insurance-type arrangement for employees called INFONAVIT where the employee has medical and retirement benefits as options. The amount paid by the employer is determined by the amount of money the maids are paid on a weekly or monthly basis depending on how their pay scale is set up.
Employees can use their INFONAVIT benefits to purchase a new, very nice, but simple government-subsidized house or property. The Mexican government has built very large complexes and the houses there are available almost as a shell for locals to buy. This is an option the locals can exercise; some do and some don't.
Some expats will just hire on a cash basis and have the maids come in once or twice a week. Mexico is still very much a cash country. A maid who comes for six hours once a week would cost around $15 or $20 per visit.
We still use a lot of dollar transactions because there are so many Americans and expats living in Puerto Vallarta. If you go to a village or a smaller town in Mexico,you would probably pay in pesos.
The greater Puerto Vallarta area would include Neuvo Vallarta, Punta Mita, and in the south would go all the way down to Mismaloya. You've got a higher average income in Puerto Vallarta because of the tourist trade and the inflow of both Canadian and US dollars. All the locals are dependent on the tourist business, which is a large percentage of Mexico's economy.
(Open terrace, Puerto Vallarta, Mexico, pictured.)
Posted May 17, 2017