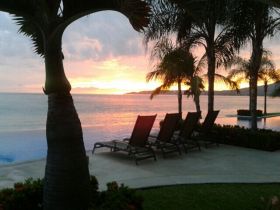 This area of Mexico used to be promoted as just "Vallarta," but there was a separate group who promoted it as "Riviera Nayarit." About a year or so ago, these people got together and said, "This is silly; we're competing with each other. Why don't we join forces?" That's why the area is now called the "Bay of Banderas" area. The whole area is now rebranded as "Vallarta Nayarit," which encompasses the whole area.
Going from the north to the south, Punta de Mita is a beautiful area with a beautiful beach in the north part of the Bay of Banderas. Punta de Mita is a very exclusive area where you'll see a lot of movie stars and big names come to vacation--Kim Kardashian, Kanye West, the Beckhams and Kate Hudson. You'll often see pictures of these big stars coming and staying in the Punta de Mita area, which is a very exclusive location that has multimillion dollar properties.
La Cruz de Huanacaxtle is where the marina is. La Cruz de Huanacaxtle is a beautiful area with a wonderful yacht club and some restaurants.
Going further south is Bucerías, a location that's well-known to divers of oyster shells and oysters. Bucerías has a wonderful little mix of the Mexican locals, the traditional cobblestone streets, and a little bit of higher-end restaurants- all in a quaint little town that's quite amazing. There's no small town in Mexico that has more restaurants than Bucerías.
Heading a little bit further south is the resort development area of Nuevo Vallarta, or New Vallarta. Nuevo Vallarta has hotels and condominiums to rent. Nuevo Vallarta is perfect for somebody who just wants to come and lie in the sun and have some good food but stay primarily on the property and just enjoy a resort-type environment. In the Bucerías and Nuevo Vallarta areas, you could just walk for miles with the beautiful sand beaches.
After Nuevo Vallarta, you get into Vallarta proper. Vallarta is the largest city on the Bay of Banderas. It has a mixture of areas- there's a marina area, a hotel zone, and a downtown/central area that has wonderful restaurants and great shops. Around the malecon, which is the concrete walkway along the ocean, there are wonderful little stores and large department stores. There are 2-3 huge major shopping malls in Vallarta, and there's an area that is very lesbian and gay-friendly, which is an amazing part of town with wonderful people and great restaurants.
Further south, you'll see the small suburbs of Vallarta: Conchas Chinas, Amapas, Barra de Navidad, and Mismaloya. In the southern part of the Bay of Banderas is where John Houston filmed the "Night of the Iguana," and you can still see the location where they filmed that movie which is also where Elizabeth Taylor and Richard Burton had their famous love affair. It was their love affair that put the Vallarta on the map as a tourist location because the rags at the time would promote and take pictures of this love affair going on in this beautiful tropical place. That's how Puerto Vallarta got known to more Americans and Canadians.
In the southern side of Vallarta Nayarit, there's less beach than on the northern side and more views and scenery. It's much more rocky and mountainous on that side. There are some swimming areas in the southern side of Vallarta Nayarit, but it is more known for its spectacular views. There are houses or condominiums that are built up high on the mountainside that are overlooking the bay. These houses and condominiums get the most spectacular sunsets and views.
(Sunset in Vallarta Nayarit, Mexico, pictured.)
Posted February 02, 2017