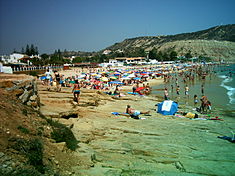 You don't have to own a car in the Algarve but many people do own cars here.
The Algarve is a little tricky in the sense that the distances can be misleading. Nothing is very far in the Algarve. A lot of people say they want to be able to be close to the coast, which they will define as about half an hour away, but you can be anywhere in the Algarve in half an hour's drive.
But it is where you want to be in 5 to 10 minutes walking distance that becomes tricky. There are lots of these areas, residential suburbs in the outskirts of towns and cities, which are generally too far to walk into a town and just too uncomfortable for public transport, which is sometimes infrequent on these small secondary roads. We find more and more people requesting a place that is within walking distance to the town center, shops, and restaurants because in that sense, you can do without a car. If you are in a town like Lagos, Portimão, or Faro you will find that they have the bus networks that can take you anywhere in the city so you wouldn't need a car.
If you are going out of the town or the cities, having a car is definitely advisable.
(The beach at Praia da Luz, Algarve, Portugal, pictured.)
Posted December 31, 2015