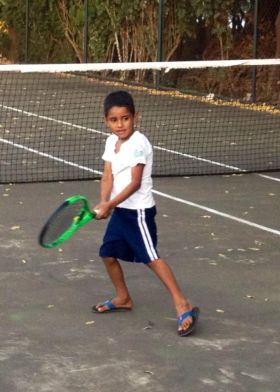 We just moved homes in Nicaragua so we have no TV, phone signal, or Wi-Fi. It's nice to have the kids learn how to enjoy life without all the technology surrounding them. They're playing with sticks and coconuts and are having fun and enjoying it. Our neighbors' kids are doing the same thing here in Nicaragua. There are plenty of opportunities. For example, my daughter dances and goes horseback riding. She's got some incredible dance instructors in Nicaragua who come through northern Nicaragua. We've also got some horse trainers who come through for horseback riding.
On the other hand, my son is into tennis and football (what in the US, we would call "soccer"). There are amazing people traveling the world and moving into Nicaragua and Central America who are amazing tennis pros and are giving my son the help he needs to be the best he can. Nicaragua is a nice, relaxed area.
There are great schools in the area we live in that are extremely inexpensive. Both our kids are doing well in school. For example, my daughter just got her scores back. A third of her scores were 100's, a third were in the 90's, and the rest were in the 80's. She's doing very well in school and in extracurricular activities. She just started high school, which begins at 7th grade.
What hit me the most about moving to Nicaragua were that the conversations I had with people were all about family and have nothing to do with money, houses, or cars, which is what we talked about in San Diego. It's really easy to converse with people in Nicaragua and get into important, meaningful conversations. That's what my kids who are being raised in Nicaragua also learn.
(Barry Oliver's son playing tennis, Northern Nicaragua, pictured.)
Posted April 06, 2017