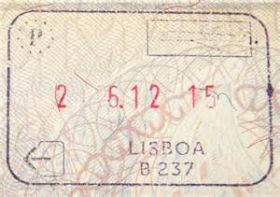 In order to get a job in Portugal you will need to get a resident permit first.
Please note that the residence permit will allow its holder to enter in the Portuguese territory in order to apply for a residence visa.
For that it will be mandatory to fulfill the following conditions:
a) Be in possession of a travel document valid beyond at least three months duration of the intended stay, e.g. passport or similar document;
b) Have a valid and appropriate visa for the purpose of the stay. This visa must always be requested in a diplomatic mission or a Portuguese consular office in the country of origin;
c) Have sufficient means of subsistence for the stay period.
d) Have not been subjected to an order to leave the country and be present in Portugal in the subsequent period of the prohibition of entry in the national territory;
(Portuguese passport stamp, pictured.)
e) Have not been indicated for refusing entry purposes in the Schengen Information System;
f) Have not been indicated for refusing entry purposes in the Integrated Information of SEF ;
g) Have travel insurance.
Depending on the stay of the foreign citizen there are different types of visas that must be taken into consideration, namely:
Residence permit to perform paid employment;
Residence permit to perform self-employment;
Once you have an employment contract, and if you are in Portugal it is necessary to go to Foreigners and Borders Service (SEF) and apply for a work permit, which only will be granted if you have legally entered the country and if you have dully inscribe before the Social Security.
Posted December 30, 2015