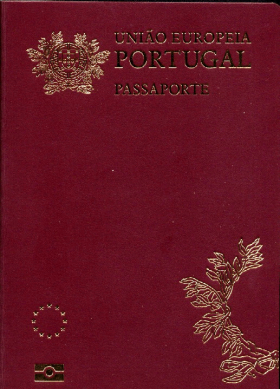 To have a Portuguese Passport it will be necessary to apply for Portuguese Nationality first.
The Permanent Residence Permit allows for citizens of third states to apply for the Portuguese Nationality after 6 (six) years of residence in the Portuguese Territory.
Nonetheless the citizen applying for the Portuguese Nationality shall also have to comply, namely, with the following requirements:
a) Proof of residence in Portuguese territory for at least 6 years;
b) The applicants must be over eighteen years old;
c) Sufficient knowledge of the Portuguese Language;
d) Absence of conviction for crime punishable in Portugal by imprisonment for more than 3 years;
e) Birth certificate;
f) Passport;
(Electronic passport from Portugal, pictured.)
g) Incorporation about personal data as the name of the parents, profession, etc.;
h) Countries where the applicant had residence besides Portugal;
i) Criminal registry issued by the Portuguese entity of the county of birth or of the nationality where the applicant has its residence.
The Portuguese Passport allows the holder to establish residence and free movement in Portugal and in other European Union Countries. Thus, with a second passport to get into countries that require visas for certain citizens could benefit you in substantial costs and less paperwork and unnecessary bureaucracy to travel around.
Other advantages of having a Portuguese Passport are the access to medical assistance, to education and others publics rights on the same terms as the Portuguese without losing your American citizenship.
(Electronic p
assport from Portugal, pictured.)
Posted December 28, 2015