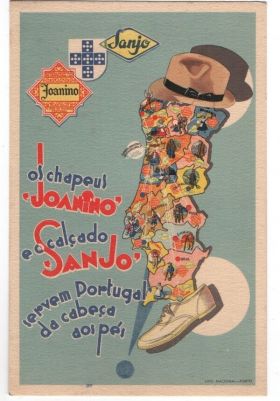 Yes, you can buy good clothes in Portugal.
I'm tall, so when I first came to Portugal many years ago, I couldn't find anything to fit me, so I ended up having to go to a dressmaker. Now you don't need to do that at all because you can get practically everything like you can get in the States or in England. And now that the Chinese are doing business here in Portugal, there are massive, great department stores as well.
And so if you want "cheap and cheerful" you've got "cheap and cheerful." If you want to spend a lot, there are plenty of places to do that. Clothes are easy to get here. Shoes are easy. In fact, Portugal has become the second country next to Italy to produce the best shoes.
(An old postcard featuring the map of Portugal and Sanjo shoes and Joanino hats, pictured.)
Posted December 25, 2015