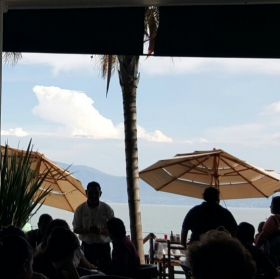 One of the main reasons (but hopefully not the only reason) to move to the Ajijic / Chapala area, is the cost of living. As an expat I met yesterday described it, "Twice the lifestyle at half the cost," and my experience is that he is roughly correct, if not understating the case.
Our experience is that our cost of living here in the Lake Chapala area is about 60% less than when we lived in southern Arizona, but with nicer weather and a great lake view thrown in. The most significant differences are:
Our rent is $1,200 per month for a 3,000 square foot home with an awesome view. Included in that rent is housekeeping, gardening, water, security, trash pickup, tennis and a pool.
In our last month in Arizona, we paid $390 for electricity. Here it is about $20. Water in Arizona cost me $190 in our last month, while here, it is included in the rent. Talking about things that are included in the rent, in Arizona we did not have housekeepers or gardeners, but here, we do, as part of our rent. Our Internet service is $20 per month here.
Our health insurance in the US would be over $1,000 per month by now, while here, for better insurance, it is less than $250. Doctor visits in the US are so expensive I tried never to go, while here, they're about $25 - $30.
When we first arrived here, we decided to go to a Mexican buffet on the lake at a very nice restaurant, with waiters, white table clothes, on the lake, omelet bar, fresh juice, etc., called Bambu, which is pictured above. When I asked how much it cost, I was told the equivalent of $12. When I jokingly asked in Spanish, "For two?" the answer was "Si." (No translation needed.) In Arizona, the cost for one would be $20. In LA on the beach, who know? $40? $50?
Don't ever move for the cost of living alone. However, if everything else lines up for you, costs like I outlined above really take the edge off.
If you need a mover to move your household goods to Mexico, be sure to check out
Best Mexico Movers.
Posted July 14, 2018