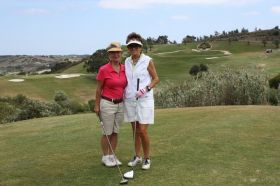 The golf in and around Algarve is a hole in one! It's not per chance that the Algarve has been voted the best European Golf Destination several times by the World Travel Association. If my memory serves me right, I think the Algarve has been voted The World's Best Golf Destination on more than one occasion.
Algarve has over forty golf courses and the quality of the golf courses is superb. Several of the golf courses in the Algarve are amongst the Top 100 in the world. The quality of the greens and the fairways is fantastic.
There are different levels of difficulty across the golf courses in Algarve from the westernmost Parque da Floresta golf course, which is probably one of the most difficult golf courses in the Algarve, to the golf courses on the Spanish border like Castro Marim, which is one of the easier golf courses to play.
There are certain golfing destinations in the Algarve that have reputations in their own right such as Vilamoura, which has five golf courses within that region or town alone and six if you consider Vila Sol.
The Algarve is a superb golfing destination. Our company, Algarve Senior Living, supports golfing associations, in particular for the senior market and people who sign up for these golfing associations are also able to play golf on a weekly basis at a discounted rate. For people who move here and have golf as a passion, there are many ways to play a huge range of courses and do so reasonably inexpensively. Having played in the US, I can tell that for a similar type of course, with the similar degree of difficulty, and the same quality of course, costs around 1/3 the price in the Algarve compared to the US.
( Golf course at Parque da Floresta Golf and Leisure Resort, Algarve, Portugal, pictured.)
Posted December 16, 2015