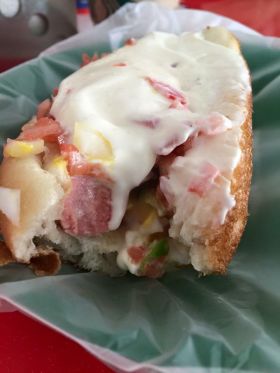 Every area of Mexico has its own signature traditional food. For example, the tamales and the whitefish are signature dishes of one particular part of Mexico. Here in the Chapala area in the state of Jalisco, we're famous for brown refried beans, but if you go to Veracruz, their refried beans are black.
Another example is the tamale. Tamales are made all over Mexico. Some tamales are the size of two of my fingers put together, and some tamales are the size of my fists squished together. The tamales have different kinds of fillings. There could also be twenty different kinds of moles depending on the region and the area. I love traveling through Mexico and eating whatever I get served.
The Ajijic area is part of Jalisco, and so are Guadalajara and half of Puerto Vallarta. The kinds of food that are famous in the Lake Chapala area aren't necessarily the kinds of food you're going to find in the entire Jalisco area. There is a world of difference just in Jalisco. To say I'm going to get the same tamale in Guadalajara that I'm going to get in Monterrey is not going to happen. It's going to be different. In the whole of Jalisco, however, similarities would be in tequila. If you go to other parts of Mexico, they won't have pozole or menudo. If you drive down the highway here, on the right-hand side, you'll see Piedra Barrenada and other restaurants such as Carnitas Hector's restaurant, which is awesome for carnitas.
When I play golf in the Atlas Golf Course on the way to Guadalajara, there's a lady there who makes fantastic carnitas that are dry, and they're totally different than the carnitas they serve at Hector's. It doesn't mean one is better than the others. You don't really have to travel too far to get a different taste, or to find a different way things are made. Mexican food when you're in the United States is not similar to what you will find as you get to Mexico.
My wife loves pozole, which is soup with boiled corn and chunks of chicken. We go to a type of restaurant which usually opens after 6-8 o'clock at night and goes late into the evening for pozole.
When I was a young guy, the first time they served menudo to me with the stomach and intestines, I found a couple of eyeballs in it as well. They threw those in there especially for Pechuga, which was my nickname when I used to play soccer.
There's a really good chicken restaurant in Ajijic called Pechugon, and one in San Miguel de Allende called El Pollo Feliz which you can also find in Arizona selling the same chicken. There's a certain day when you can get 1 & ½ chickens for the price of one in this restaurant.
As you go along the carretera (main road) here between Jocotepec and Chapala (with Ajijic in the middle), you'll see one chicken restaurant after another. There's one right next to Wal-Mart, and if you drive from Ajijic or towards Jocotepec, there are chicken places that are typically rotisserie or barbecue. Generally speaking, Mexicans don't like barbecue chicken. They think of barbecue chicken where there's sweet sauce. Mexicans also don't like mustard, so it's not uncommon for them to put cream on hotdogs instead of mustard.
If you go to Dogos Menos in Guadalajara, they have little hotdog buns where they cut a hole in it and shove two little steamed hotdogs into the hole. Then they fill that cavity with sour cream, diced onions and tomatoes, and a little hot sauce. The place I like to go to is Glorieta Minerva (a "glorieta" is a roundabout), in the Central Park of Guadalajara. Glorieta Minerva doesn't close and they sell tacos that are just the most delicious tacos you'll find in all of Mexico.
What people should know is they can spend the day and night in Guadalajara and go to some fantastic restaurants. A lot of my clients do it all the time. There's this one guy who doesn't even drive. He takes a couple of his friends to Guadalajara with his gardener/chauffeur. They go to Guadalajara in his Honda Odyssey and they just enjoy the food at all the different restaurants. For example, there's a whole area called San Paolo where there are massive restaurants filled with beautiful and handsome young Mexicans. My daughter likes to go there because there are a lot of young people.
If you go to Guadalajara, you're going to have the best foods you've ever eaten at a good price, with a good selection of wines. You're going to want to come back. Lots of my clients here in the Lake Chapala area have homes or apartments where they can spend weekends in Guadalajara.
(Hot dog at Dogos Menos, Guadalajara, Mexico, pictured.)
Posted May 16, 2017