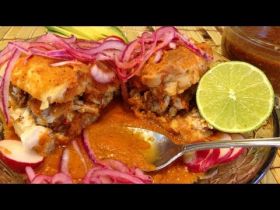 There are different traditional foods around Mexico. For example, the traditional food in Guadalajara is torta ahogada, which is bread with pork meat and extremely hot sauce. Mexicans love to have torta ahogada the following day after overdrinking at a party. Torta ahogada is a really traditional meal in the morning for people who party.
Tacos are another kind of traditional food in Mexico. You can find a taco place in almost every few blocks, and these taco places are all clean, serving cheap and delicious tacos. Exotic tacos are sometimes served with pork tongue, brains, and kidneys, but you can also have just regular chicken and pork in it.
Varieties of tacos include the soft taco, corn tortilla, or flower, but most of the tacos in Mexico are not sold with flower tortillas. In Mexico, corn tortilla is very common. In the United States, we would call a taco cooked in oil dorado, or a hard taco.
Tacos dorados is also very common in Mexico. You can get tacos dorados in the same place where you get torta ahogada, which is essentially the same except that it's deep fried. Instead of meat, tacos dorados can be presented with frijoles (beans), or potatoes or traditional meats. When you deep-fry them, they become crispy tacos. In tacos dorados, "dorado" means "stiff" or "hard."
Another traditional dish in Mexico is pastor, which is meat cooked with burnt pineapple on top. Pastor is really delicious. In Puebla, which is near Mexico City, there's a traditional dish called chile en nogada, which is chili filled up with cheese and they put mole on top. And there are different types of moles. They also put granada (pomegranate) placed on top of chile en nogada.
(Tortas Ahogada, Guadalajara, Mexico, pictured.)
Posted February 21, 2017