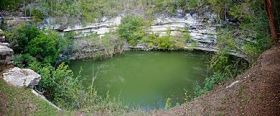 Yucatan has one of the biggest pre-historic aquifers in the world, so the water is very safe to drink.
I know some people say not to drink it but I drink it and I've been here since 2008 and I've never had a problem. People bathe in it, and people cook with it.
Some people would argue that, while the water might be safe, the pipes may contaminate the water before it reaches your home, but the infrastructure in the Yucatan is probably among the newest in all of Mexico.
(The Cenote de los Sacrificios, the collapsed ceiling of a cave with fresh water filling it in, Yucatan, Mexico, pictured.)
Posted December 14, 2015