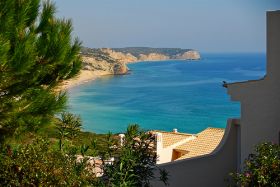 I've lived in several locations that would be considered ideal retirement locations such as Florida and I have little doubt that the Algarve is the best, if not one of the best locations in the world. Here are some of the reasons:
The weather is superb. The Algarve has than 3,000 hours and 300 days of sunlight. The Algarve has more sunlight and more sunny days than California. The weather is very similar to Southern California—San Diego, Santa Barbara—that kind of area. The Algarve also receives very little rainfall. It doesn't get very hot, and it doesn't get very cold. Whatever heat we get in the summer is moderated by the Atlantic, which keeps things moderate.
The cost of living is very reasonable, if not low—certainly low in European standards.
The healthcare is good. We have a great public healthcare system, and one in which, under certain circumstances, expats can participate.
The Algarve is very safe.
Most people in the Algarve speak English.
There's a huge range of activities to do in the Algarve even in the winter, whether it be sporting, wellness, or cultural.
There is an existing expat population in the Algarve so it's quite easy to integrate and you'll probably easily find someone of your nationality. And if you don't like your own nationality you'll find someone with somebody else's nationality. So there are plenty of options there.
Generally speaking, people just like living here. They like the Portuguese people and the way that they are; the friendly nature of the local folk.
Portugal is probably the most tax efficient country in Europe at the moment. It has no income tax on pensions for most pensioners. It has no inheritance tax. It has no wealth tax. So there are a number of advantages from a taxation perspective that draws many people to Portugal and to the Algarve in specific.
Here are some of the not so good things:
Portugal is a fairly bureaucratic country, so as a retiree even though the system is being simplified, initially come prepared for a little bit of bureaucracy. It will take a little bit of time to get things organized. Dealing with public bodies is not easy at all. I'm someone who lives most of my time outside Portugal and therefore when I'm here I always feel a little bit frustrated by having to deal with public sector bodies that take too long and many times they don't give you the right answer at the first go, so you have to be very careful about the advice that you take from them and double check it. It helps to have someone on the ground to help you along if you're moving to the country just to make sure you avoid any mistakes and make sure that the transition goes smoothly.
Getting Internet connectivity may be a bit of an issue. Once it's working, it's great. But it just takes a little bit of time to get things set up and organized.
If you are thinking of building, planning, or constructing something, there may be challenges. If you have a passion to buy a piece of land and build a house, take great care because it's a fairly long process and you need to make sure that planning is in place that you are authorized and build and develop what you want. And it's something to be handled very, very carefully.
Another challenge here in the Algarve for some people is that there are certain items that are not competitively priced, for example, electronics, motor vehicles, and fuel. So shop around. This is not necessary a negative point. In every country there are expensive or less expensive things. When you move and retire to the Algarve, make sure that you shop around because by doing so you can cut your cost of living tremendously.
(Beach on the Algarve, Portugal, pictured.)
Posted December 05, 2015