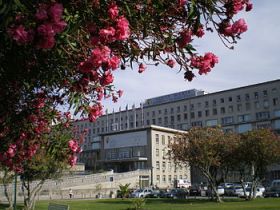 According to the World Health Organization, Portugal has the 12th best health system in the world. Just to give you a basis of comparison, I believe the US is 38th on the list. In addition, my estimate is that the cost of healthcare in Portugal via the public healthcare system comes at about an 80% discount to the cost of healthcare in the US.
The quality of healthcare in Portugal is very good, both private and government-run. We have in the Algarve both a public and a private network. There are two very large hospitals and a few smaller public hospitals. The large hospitals are located in Faro and in Portimão, which are the two largest cities in the Algarve. The private hospitals are located in the towns of Lagos, Portimão (or very close to it in Alvor) Albufeira and in Faro, although there are also health centers located in a number of other locations, including the city of Loulé.
The private healthcare in the Algarve is basically controlled by two major groups: HPA, which is a large hospital group; and the Lusíadas Group, which used to be the old HPP group owned by Portugal's largest public bank called CGD, Caixa Geral de Depósitos, that was privatized. There is then a network of little clinics that are typically privately run and would cover anything from small surgeries, general medicine, perhaps specialties such as ophthalmology, dentistry, and specialist diagnostic exams. So if you need to have a blood test and a CAT scan, you must go to a private clinic.
Everything in the Algarve is located quite close. We often ask people how close they want to be to the coast and they tell us "half an hour." Well, in half hour you can cover literally half of the Algarve. So when describe the medical facilities as being "close," we mean that most medical facilities will be within a driving distance of around 15 minutes for most expats.
In order to qualify for the public healthcare system, you have to have the right to live in Portugal permanently, which is like any universal franchise system. The government wants to make sure that the people who are benefitting from the system are actually paying into it or have paid into it at some point. Other than that, if you are from a member country of the European Union such as the UK or Scandinavia, you will not pay for healthcare, and settlement of payment will be done behind the scenes between your home country and Portugal. Alternatively, if you come from a country such as Canada or the US that is not part of the system, there will be a different mechanism to determine how much access to the universal system you will have and at what cost.
For example, if you are on a visa which is not a permanent visa or you are still in the process of moving to Portugal, there will be an interim period during which you need to use private healthcare because you won't have full access to the public healthcare system. You may need to make some contributions to make sure that there is enough contribution to allow you to reap the full benefits. In some cases, during the transition period, the government may force you to have private insurance because you're not yet, as a non-resident or as a soon-to-be or future resident, eligible for the public health system.
Generally speaking, everyone has access to the government-run, universal system. There is a slight copayment, although the new Socialist government which only came into power recently has already reduced that from €10 to €5 (US $10.60 to $5.30).
Portugal operates its universal healthcare system under the principle of social justice. In other words, if you are an American in health trouble and you need to go to a public hospital, they will not turn you away; they will serve you first and ask financial questions later. As a contrast, I'll give you my personal example. My middle son was born in Miami, when I had a very, very good private insurance. When my wife went into labor we went a hospital, and I showed my insurance card. They said, "Yes, you're covered. Come in. We'll treat you." The hospital was in such good condition, it looked like a hotel. As my wife continued in labor, she needed an epidural. Before they would administer the epidural they needed me to write an extra check, which I did. Before they would administer the epidural, however, the lady in the hospital went away to ensure that the check cleared. By the time she came back, it was too late; the baby was being born. This is the kind of situation that would never occur in Europe or in a country that runs essentially a universal franchise health system.
I know there are many criticisms in the UK and Portugal about their public healthcare systems, but essentially there is still the patient at the core of the service. This is not to say that the public healthcare system here is perfect because there have been many, many cutbacks. However, after having lived in 10 countries, my opinion is that the system in Europe is good.
Once you qualify for the Portuguese healthcare system, you should register at the local health center, which will then assign you a doctor. If there are no doctors available then you would go into a pool and they would give you the same rights as if you had your own doctor. You just have to book consultation in advance and you show up. The general practitioner will write any prescriptions and, if needed, will write any requests for specialist consultations or treatments.
It is not by chance that the Portuguese healthcare professionals—doctors, nurses, pharmacists, occupational therapists, and physiotherapists—are very much sought after by many other countries. We sometimes have a problem in Portugal with the availability of medical staffing because countries like Germany, Sweden, and the UK poach a lot of the medical professionals from Portugal because these countries can afford to pay two to four times the amount earned by a doctor in Portugal.
Waiting times have definitely improved, as well as other aspects of the public healthcare system. In the past, we had this old system wherein when you arrived for your appointment, you would take a little piece of paper and wait. If you wanted to be served promptly you would have to arrive 3 or 4 hours early in order to get in line. Now, of course, it's much more modern. You can book by telephone and you get an assigned time slot and then you're attended to at that time slot, which is a lot more efficient.
There's a marked difference between non-urgent and urgent situations. If you present with a non-urgent situation it is likely that you will have to wait. So if you go to a hospital they will do triage, which means that they determine whether or not you are a serious case or non-serious case. If you're a non-serious case and you hit a particularly busy day at the hospital, you could have a wait of several hours. If you present, however, with a serious case, you will be dealt with in minutes.
You are just as likely to find someone who speaks English in a public hospital as you are in a private hospital. If you have the need to see a doctor on a regular basis for something that's not very serious and you're not willing to wait the 35 to 50 minutes or so you would wait in the public system, you may want to choose the private healthcare system. But generally speaking, no, there is no reason to go to the private health system.
Assuming you've met the condition of residency and access to the Portuguese public healthcare system, you're on the plan. Once you're on the public system, you're on it. There are not different types of plans; it's everyone's plan. The reason there are some differences is that people of a certain age, above a certain age or below a certain age, people with some acute conditions, people in very difficult financial situation for example, all these people would qualify for a reduction in copayment and even an exemption. Countrywide, Portugal has one universal plan for everyone and then depending on your demographic in terms of age group profile, state of health, and even financial situation, you may have some exemption.
(Hospital of Santa Maria, Lisbon, Portugal, pictured.
Posted December 04, 2015