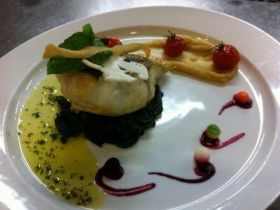 People have the perception that the Algarve is more expensive than the rest of Portugal because it's by far and away the most popular destination for foreign residents and tourists in Portugal. Although Algarve may be more expensive in some instances (for example, in the summer), this is not the case year round and in general.
Here's some background. The north of Portugal is the cheapest region in terms of cost of living, food, etc. The center of the country is more neutral, as is the Algarve. If you go inland, into the interior, certain things will be cheaper (such as eating out) because people tend to price their restaurant meals very competitively. But on the other hand, buying fuel (petrol / gas) may be more expensive, because of the costs to transport it to the inland of the country.
The cost of living in the Algarve is, in general, is around a third cheaper than it would be in most places in the US, given that the US is a big place with many price differentials. The Algarve is around 30% to 40% cheaper than it would be to live in northern Europe or the UK. These estimates are based on a combination of things such as the general cost food. Generally groceries are cheap in the Algarve, by Western standards. In particular, fresh food—fish, pork, chicken, and the like—is much cheaper than you would expect to pay in most northern European countries and in most areas of the US.
What I'm describing is an average value, taking into consideration that the cost of living between two places in the US (for example, the Midwest versus New York) is quite substantial. You will find that eating out in the Algarve is very, very cheap. You could easily have a full three-course meal with a bit of wine or a soft drink for under €10 (US $10.59 / £7.05) per head. There are plenty of options. It's very, very difficult to eat out in the US at a good restaurant with a three-course meal for $10; pretty much impossible.
The cost to rent a home in the Algarve will depend very much on your location. As you can imagine, any property with a sea view in the Algarve, in fact anywhere along the coast, dramatically pushes up the price. At the low end, you can get a 3-bedroom, 2-bathroom 200 meter (around 2,000 square feet) home in the Algarve starting at around €800 ($847.40 / £563.75) a month on a full year rent. I'm describing a full year rent including, which includes the summer.
The overall range is between €800 (US $847.40 / £563.75) to around €2,000 (US $2,118.50 / £1409.37) a month but the average price is in the range of €1,250 (US $1324.06 / £880.86) a month on a full year basis, where you rent for all 12 months of the year where you have a contract for all 12 months. The reason the full year term is important is that, on account of several factors, many people rent in the Algarve for only 6 to 9 months of the year. If you don't rent in the summer (which Is the high season), you would have an opportunity to negotiate a slightly lower rate because you can effectively give back the property to the owner and the owner can then rent that property at much, much higher prices in the summer. And to give you an idea, the price to rent in the summer is three to four times the price in the winter.
The cost to purchase that same home would range at the low end from €275,000 ($291,300 / £193,800) to about €800,000 to €900,000 ($847,400 /£634,200).
Relative to the cost of food, we have found Luis da Silva's €5 Rule to be helpful. The Luis da Silva €5 Rule applies if you're following what we call the Mediterranean Diet. The Mediterranean Diet calls for eating food in season. In order to follow the Mediterranean Diet, you would not eat sardines in December because they are much more prolific in the middle of the year, in June. And equally, you wouldn't eat sea bass and sea bream in the middle of the year because they are fish that are more easily and freshly available towards the end of the year. It's the same thing with oranges, which are winter fruits and which you would eat around November, December, January, February, and a little bit of March.
If you follow the Mediterranean Diet, then Luis da Silva's €5 Rule states that you could almost always find pork, fish, and a wide variety of fish for under €5 a kilo (about US $2.40 / pound). This is a good benchmark for those who are on a tight budget. The Portuguese eat more fish per capita than anyone else in Europe, so if someone doesn't like to eat fish, it would be useful for them to start to get to like it because there's a huge variety here.
A bottle of wine may cost you anywhere between €2 and €4 ($2.12 / £1.41 to ($4.14 / £2.82) a bottle. You can get cheaper wine but this is for very good quality wine comparable with anything that comes out of the smaller vineyards in California, for example. We have very, very good wine in Portugal. If you want bottled water, 5 liters of bottled water will set you back 42 or 45 cents. If you want to buy coffee (which is a Portuguese tradition), it will set you back between 60 cents and €1 per coffee and you could choose what type of coffee you would like. You could get an espresso, which is most commonly drank by Portuguese, or you could get an Americano, which as the name implies, is larger and comes with milk. If you want to buy a packet of spaghetti that might cost you anywhere between 60 cents and €1. A packet of biscuits will cost you between €1 and €1.50. A kilo of oranges bought at the supermarket, depending on the season, will cost you between 40 cents a kilo and 90 cents a kilo (18 cents to 41 cents / pound). A loaf of bread freshly baked would set you back anywhere in the region of 65 cents to one euro.
(Chef Gilberto Gato's sea bass with a Portuguese twist featured at Algarve Senior Living marina restaurant in Portugal, pictured.)
Posted December 02, 2015