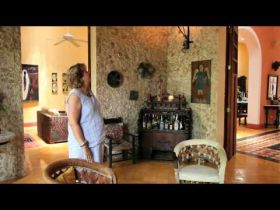 You should move none of your stuff to Mexico. Part of moving to a different country is to experience a completely new culture. The stuff you buy here in Mexico is going to be completely different than the stuff you have at home, so if you want to make a move, make a move. Don't bring your life with you. It doesn't make any sense.
Secondly, a lot of the things that you have in the States or in Canada won't necessarily do well in the environment here in Mexico. For example, if your stuff is pine, it's going to get eaten by bugs. If it spends all its life in a dry climate in Phoenix and you bring it to a place with high humidity, it could crack.
Importing things in Mexico is hit and miss as to a.) whether it will arrive intact; and, b.) whether you can actually get it out of the impound, and how much that's going to cost you. And I don't mean the cost that you expect. I mean the "extra" cost.
My advice would be to bring your clothes. If you can't put it in a suitcase, don't bring it. There's plenty of stuff here in Mexico that you can get- a lot of houses here in Mexico are sold furnished. I ended up putting my stuff in storage for 8 years, and then I sold it for about 10% of what it was worth in Canada. At the end of the day, just sell it, get rid of it, and take anything that can't be replaced, put it in a suitcase and bring it here to Mexico.
(Home tour, Merida, Mexico, pictured.)
Posted March 08, 2017