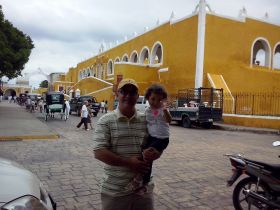 Merida Yucatan is one of the richest provincial cities in Mexico, and is an excellent option for settling down to live, due to its excellent infrastructure, amenities and major air connections to the United States and Mexico City.

Currently, its estimated 14,000 to 20,000 foreigners live full or part time in Yucatan.

Som eproperties in the Historic Center of Merida are sold for over USD $25,000 and their value may increase by eight or ten times, even more if they are restored homes.

In recent years, Merida has seen its streets explode with art and culture. Something is always happening in Merida, such as concerts, festivities, parades and celebrations, which are a common sight in this vibrant city. You can also join groups engaged in rescuing dogs and cats, and help to make Merida a more attractive destination. Foreign expatriates also meet in reading workshops, such as the Merida English Language Library; as well as in art workshops, travel groups, wine-tasting groups, biking groups, dancing and language classes. There is no better way to learn Spanish than enrolling in a language school, and there are a large number of these institutions in Merida.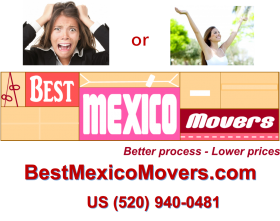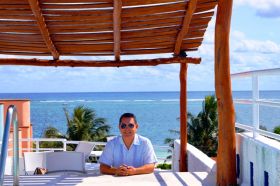 Merida residents flock to the port cities of Celestun, Sisal or Telchac to stroll along its beaches and take a dip in the emerald green waters of the Gulf of Mexico. Undiscovered beachfront fishing villages are always bustling with food and craft vendors, local residents and beach-goers, and the waters just off the coast are calm, clean and good for swimming.

Grab a seat at one of the many palapas (thatched-roof restaurants) that extend the length of the beachfront for an excellent spot to sample some of Yucatan's distinct regional cuisine. Seafood dishes are popular and include sopa de mariscos (seafood soup), pescado tikin-xic (grouper seasoned with achiote).

Progreso is also a popular cruise ship destination, and the city is famous for its pier that extends an impressive four miles into the Gulf of Mexico. Cruise ship passengers arriving in Progreso are often bused the length of the pier before embarking on Progreso excursions, many heading inland to visit the city of Merida or tour the Mayan ruins at Uxmal and Chichén Itza.

Come and visit us and decide for yourself.
(Pictured above: Alfonso Galindo with daughter Zara at Izamal, Yucatan. Pictured below: Alfonso Galindo at Puerto Morelos, Yucatan Peninsula.)
Posted November 05, 2015