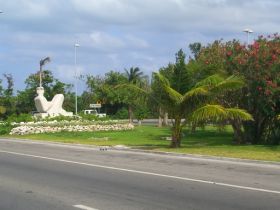 The roads in the Yucatán are good so there is no need for a four-wheel drive. The highways are amazing to drive on. For example, if you drive from the state of Yucatán to Quintana Roo, the highway is good and secure. The government backs you up in case of emergencies.
One of the advantages of Yucatán is there are no mountain roads because there are no mountains. The roads are straight. The main road connecting all of Riviera Maya all the way from Cancun down to Tulum is a federal highway with two lanes on each side. It's a straight up road with a maximum speed of 100km/h, but people drive on an average of 80-110km/h.
This is risky because the federal road is a straight road, so you have to really be careful with the cars that are turning around, and because you are actually speeding and driving really fast.
There are things on the straight roads called a "retorno" which is where you turn around, and typically, they're on the left side, and you have a limited amount of time to stop because you have to come to a full stop before you could go to the other side. Sometimes, if there are a lot of cars or a big bus there, they may even stick out a little bit into the traveling lane so you must be aware.
(Road to Cancun, Mexico, pictured.)
Posted March 20, 2017